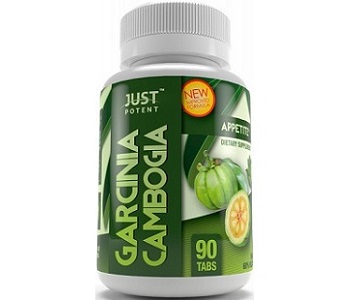 User Ratings (

0

Votes)

0
Do you know someone who has lost weight from taking garcinia cambogia? This natural supplement has origins India and has been recommended by famous medical doctors as a natural way to lose weight and curb appetite. But does it really work? In order to find out if there is any truth to these claims, we put together a report on one of the popular supplement brands currently on the market. We researched ingredients, side effects, etc. and perused hundreds of reviews from users in order to put together the comprehensive report below. Read our Just Potent Garcinia Cambogia review so you can learn more about this product.
Ingredients
The active ingredient in garcinia cambogia extract is 60% hydroxycitric acid (HCA). This is low for a percentage of HCA. We expect to see approximately 90% HCA when analyzing garcinia cambogia.
Dosage
The dosage for this product is three pills per day. It is advised to take them at least 30 minutes before breakfast or lunch.
Side Effects
Warnings from the manufacturer include:
Not to exceed 3 tablets per day
Not for children
Not for women who are pregnant or nursing
You must speak to your physician before taking this product if you have a medical condition
Reported side effects from customer reviews include:
Headaches
Excessive urination
Insomnia
Nausea
Bloating
Price
One bottle of 90 tablets can be purchased directly from the manufacturer at a cost of $19.99. If purchasing 2 bottles at once, the second bottle is $17.99. Searching on third-party sites yielded better prices on this supplement.
Guarantee
There is a money back guarantee which applies on domestic orders and Canada. However, they will only accept returns of unopened bottles.
Conclusion of Just Potent Garcinia Cambogia Review
We found the manufacturer's website to be clear and extremely thorough. It is informative and information is easily accessible. Another great selling point is that this product is GMP certified. This quality should be of utmost important to anyone purchasing supplements.
What concerns us is the potency of HCA found in this garcinia cambogia extract. Research has shown that the higher the concentration of HCA, the more effective this product will be. Indeed, we found many negative reviews on Amazon. Many people stated that this product was ineffective and made no difference to their weight loss. We would suggest contacting the manufacturer to see if increasing the dosage is a possibility. Just beware that then one bottle will not last the entire month and therefore it would not be cost-effective. The other option is to find a garcinia cambogia supplement with about 90% HCA.
Lastly, the money back guarantee is nice but it should apply to opened bottles as well. Supplements work differently with each person's individual chemistry. In order to see if garcinia cambogia has a real impact on your appetite, we would advise finding a product which will allow you to try it first.
That concludes our Just Potent Garcinia Cambogia review. We hope this is helpful in your search for natural weight loss products.
Bringing you top reviews and product analysis - Consumer Advisors.