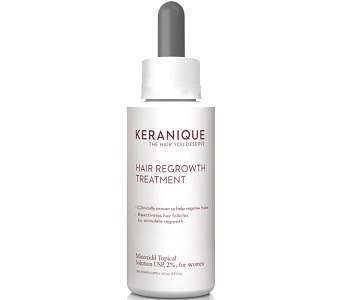 User Ratings (

0

Votes)

0
In this Keranique Hair Regrowth Treatment review, we try to find out what this hair regrowth solution can do for women with thinning/hair loss issues. Keranique claims that its hair regrowth treatment offers a long-term solution for women with thinning. It is said to stimulate the hair follicles so they produce more hair. Is there any truth to their claims? Is this the product that can help you? We are here to find out so read on.
Ingredients
Minoxidil 2%
Alcohol
Propyleneglycol
Purified water
Keranique Hair Growth Treatment's main ingredient is Minoxidil which has been found to be effective in promoting hair growth. It is said to work by reactivating hair follicles so they produce healthier and stronger hair. Repeated use of this product is found to help reduce patches of thinning hair while adding more volume to new hair.
Dosage
The manufacturer recommends applying one ml. of this treatment to your scalp where hair loss is present, twice a day. You don't need to apply more as there is no evidence that this can help speed up the process. It is important that you use this treatment repeatedly to see the best results. You should wash your hands after using. Keranique advises you will need to use the product as directed for at least four months before you start seeing results.
Possible Side Effects
We have taken note of the fact that itching or dryness might be experienced by some users but Keranique suggests that you use its shampoo and conditioner to help solve this side effect. It is also suggested that you wash your hair twice before using the conditioner to get rid of any product buildup. Keranique recommends to those with heart problems to discuss usage of its product with a doctor. You should also read the label to ensure that you understand the information regarding the product.
Price
At the time of our review, a 3.2 ounce container (a 47-day supply) of Keranique Hair Regrowth Treatment could be bought from the manufacturer's website for $49.95. If you purchase there it comes with Keranique's other hair regrowth products. A stand-alone purchase of just its Hair Regrowth Treatment on Amazon cost $30.
Guarantee & Feedback
In terms of money-back guarantee, Keranique offers a 120-day money-back policy. If you are not fully satisfied with the results, simply return the purchased product to Keranique and you will get a full refund. This time-limit closely coincides with the company's minimum recommended usage period of four months.
As for customer reviews, the product's Amazon customer ratings ratio is poor (for this category) with only 52% positive scores and 24% negative (at the time of writing).
Our Conclusive Review of Keranique Hair Regrowth Treatment
Based on the information that we have for our Keranique Hair Regrowth Treatment review, we believe that this treatment may actually help some women with thinning hair. The active ingredients has been shown to be somewhat more effective than a placebo in regenerating hair growth. The money-back guarantee also seems reasonable.
However, given the feedback on Amazon and the fact that the studies the company itself quotes show that the active ingredient resulted in moderate hair growth for only 19% of its subjects, we are not convinced this is an across-the-board effective product for a given customer.
Bringing you top reviews and product analysis - Consumer Advisors.