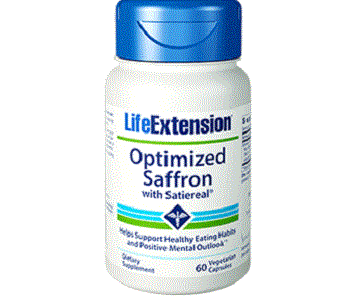 User Ratings (

0

Votes)

0
If you're looking for a natural diet supplement, any product that contains saffron is a great way to stem your appetite. Read our review of Life Extension to see how well this product works to improve your mood, reduce stress, and reduce your appetite.
Ingredients
The active ingredient in this capsule is satiereal saffron. Saffron is used to help you feel full more often while reducing your urge to snack between meals. This exotic spice also boosts the serotonin levels in your brain, which helps you feel happier and less stressed. Stress eating or eating to improve your mood sometimes coincides with depression, and taking saffron can help improve your mood and curb your appetite.
Many saffron pills contain other unnecessary ingredients, so a capsule with just saffron as the active ingredient like this pill is the way to go. This pill is also vegetarian-friendly as it is made out of vegetable cellulose instead of the standard animal gelatin that most pills contain.
Dosage
The dosage for this pill is to take one capsule twice a day, morning and evening with a meal, or as recommended by your doctor. Each capsule contains 88.25 mg of saffron, which is a lower dosage than other pills on the market. Other saffron products contain more than twice that amount with 400 mg of saffron in each capsule. The higher the dosage of saffron, the better the results; perhaps your food cravings will not go away with under 100 mg of saffron.
Price
60 capsules of Life Extension Optimized Saffron costs $24.30 through their website instead of the normal price of $27. There is a bulk discount available for four bottles for just $86.40, after a 40% discount also available through the Life Extension website. This is much cheaper than other saffron products on the market.
Guarantee & Feedback
There is no guarantee available for Life Extension Optimized Saffron pills. This reflects badly on Life Extension because other brands offer a full refund for up to 90 days or more if a customer is unhappy with the results of a saffron pill.
There are mostly five-star reviews for this product, from people who claim that the pills are working for them. They also claim they would recommend this pill to their friends, as well. The negative reviews, although few, claim that it doesn't have any effect.
Our Conclusive Review About Life Extension Optimized Saffron With Satiereal
If you're looking for an all-natural way to curb your appetite and improve your mood, it looks like saffron is a great supplement to take. Life Extension has a patented saffron extract that contains no hidden ingredients and proves to be an effective weight loss capsule. Despite positive feedback, we have also read negative reviews claiming there was no effect from taking the pill for several months. It is also unfortunate that there is no guarantee provided with purchasing this product, as other brands offer 90 days to a full year refund if a customer is unhappy with the results.
Bringing you top reviews and product analysis - Consumer Advisors.