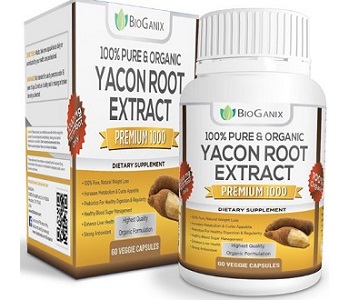 User Ratings (

0

Votes)

0
Yacon Root exploded into the weight loss world after it was endorsed by a popular American TV show host Doctor. After it was recognized for having weight loss properties that help suppress appetite and increase the speed of your metabolism, manufacturers rushed to produce their own brands of Yacon Root products. While some are authentic, others are full of fillers and binders. This review is going to examine BioGanix Yacon Root Syrup Extract. The manufacturer claims that you can derive all the weight loss and health benefits of Yacon Root Syrup like improved lipid metabolism and regularity, maintaining healthy blood sugar levels and support liver health, but without having to deal with a messy syrup. They claim that their product is 100% natural, non-GMO, gluten and caffeine free.
Ingredients
Yacon Root (Smallantus sonchifolius) – 1000 mg
Other Ingredients: Vegetable Capsule, Di-Calcium Phosphate, Magnesium Stearate.
Yacon Root is a plant that is native to South America. It is believed to contain a high amount of fructooligosaccharides or FOS, that has been shown to have the ability to suppress appetite and support your metabolism. Yacon is also believed to have prebiotic properties.
Dosage
BioGanix recommends adults taking 1-2 capsules, twice daily or as otherwise instructed by your doctor. This supplement is not intended for children under the age of 18.
If you are pregnant, nursing, taking prescription medication or diabetic, you should consult with your doctor before taking this supplement.
Possible Side Effects
BioGanix does not list any side effects. Through our research, we found that common side effects associated with taking excess amount of Yacon include bloating, gas and diarrhea.
Price
You can purchase this product on the manufacturer's website. One 60 capsule bottle is listed at $19.97. You can receive a 10% discount if you subscribe for automatic delivery.
Guarantee & Feedback
BioGanix offers a money-back guarantee but does not disclose any terms and conditions like how much time you have to request a refund. The reviews on this product are mixed. Many claimed that the dosage is misleading because BioGanix markets that their capsules contain 1000 mg of Yacon but in reality, one capsule only contains 500 mg. Many other users claimed that they experienced no effects after taking these capsules continuously and reported that the capsules appear to be weak.
Our Conclusive Review About BioGanix Yacon Root Syrup Extract
This Yacon Root product appears to be decent. It contains a good dosage of Yacon Syrup Extract and is gluten and caffeine free. However, the dosage is misleading because they claim to contain 1000 mg of Yacon Syrup Extract but that's only per every two capsules. They also claim to offer a 60 day supply but if you follow their dosage instructions one bottle will last between 20-30 days. There are a plethora of consumer complaints reporting that they experienced no effects from this extract and having tried other Yacon Root Syrup products, they felt that this product is weak. BioGanix does not offer straightforward information and many have found their information and facts to be misleading. Taking that into consideration this is a product that is too risky and misleading to trust.
Bringing you top reviews and product analysis - Consumer Advisors.