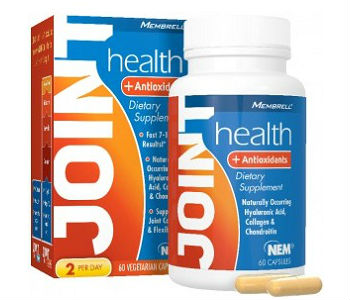 User Ratings (

0

Votes)

0
Membrell JOINThealth's primary ingredient is called NEM.  NEM is an all-natural revolutionary eggshell membrane- derived ingredient.  NEM provides its users with the following benefits:
effectively supports both the flexibility and the comfort of your joints
generally produces noticeable results in as little as 7-10 days
small, easy-to-swallow capsule size
daily dosage is only one pill
Soy, dairy, and gluten-free vegetarian product (contains no bovine or shellfish)
Other all-natural ingredients: collagen, hyaluronic acid, and chondroitin
Ingredients
Membrell JOINThealth is made up of the following ingredients:
500mg of NEM (eggshell membrane)
Vegetarian capsule and magnesium stearate
No other ingredients are mentioned
Dosage
The recommended daily dosage of Membrell JOINThealth is one capsule per day.
Side Effects
There have been no reported side effects of using Membrell JOINThealth. It ia n all-natural product and therefore does not cause any harmful side effects.
Will This Product Produce Long-Term Results?
Membrell JOINThealth is specially formulated for the production of long-term results.
Price
Membrell JOINThealth is available in two bottle amounts.  A 30-capsule bottle costs $28,99 and a 90-capsule bottle is $74.99.  You can purchase Membrell JOINThealth online and/or from a local dealer.  It's a pretty costly product in my opinion, especially since it has not been scientifically proven to do what it claims it does.
Guarantee
There is no mention of any product guarantee,  nor any return policy.  A  customer service contact number is not available, and the only method of  contact with tit's vendor is through a feature used for sending them an email. Given the price of the product and the lack of information: ( no customer reviews, no product warranties, and no return policies), when considering to purchase Membrell JOINThealth,  caution should be used.
Most reputable companies will always offer a 100% money back guarantee to their customers, especially if the company has a high amount of faith in their products. When a product does not come with any type of guarantee, if it happens to not work for you, you will more than likely still be stuck with it anyway.The fact that no guarantee or extra information is offered for this product should be taken into consideration before you decide on whether or not to purchase it.
Conclusion Of Our Membrell JOINThealth Review
While Membrell JOINThealth appears to be a good product, it is not as good as they claim it to be. If it was that great, then they would back it up with a guarantee and boost it a notch higher with FDA clearance.
Bringing you top reviews and product analysis - Consumer Advisors.