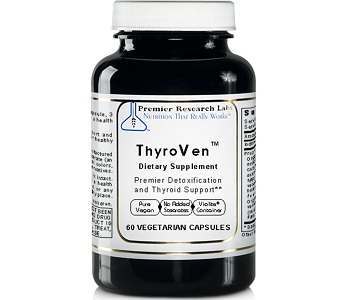 User Ratings (

0

Votes)

0
In the following review, we examine the merits and demerits of Thyroven dietary supplement from Premier Research Labs.
Thyroven is a supplement that's designed to provide nourishment for healthy thryroid function. According to manufacturer claims, Thyroven comprises a mixture of botanical extracts, enzymes, and amino acids that provide premier detoxification support for the thyroid. Common thyroid stressors that can cause toxins include: chemicals from cleaning products, soy products, exposure to mercury, surgery complications, insufficient iodine in normal diet, exposure to radiation, and many more.
Official claims state that the iodine in this product is the naturally occuring type, which would mean that it is not sourced from potentially risky sources as some other products we've recently reviewd.
Ingredients
Thyroven contains the following ingredients:
140mcg iodine – According to manufacturer claims, Theyroven contains naturally occuring iodine that does not cause any allergic reactions. Iodine supports the core function of the thyroid and ensures thatit's in optimal health.
436mg proprietary blend comprising:

Organic Kelp
Irish moss
Bear garlic
Organic bladderwrack
Organic Chlorella
Organic turkey tails
Organic parsely
Dosage
The suggested dosage is 1 capsule, 3 times daily. You can take with meals but it's not necessary.
Possible Side Effects
Thyroven should be safe for use within the stated dosage. Indeed we did not find any reported side effects that could be a cause for worry.
However, contrary to manufacturer claims, we found that Kelp is one of the listed ingredients in this supplement. As a natural source of iodine, Kelp has been used widely in the supplement world without many problems.
However, many users develop allergic reactions when they supplement on products that contain Kelp. We think this may be an issue for some potential users and the manufacturer ought to have been more upfront on the label.
Price
Price per bottle for Thyroven is $19.95, which is only good for 20 days' supply as each bottle contains 60 capsules. While this price seems low, consider the fact that one bottle is not enough for a full month as you'll need at least 90 capsules for 30 days. The costs can add up quickly if you're going to use the supplement for a couple of months.
Guarantee & Feedback
Unfortunately, the official PRLabs website we reviewed did not include any user reviews, which is a bit of a disappointment.
What's worse, we did not find any information about a returns policy or purchase guarantees offered with this product. This means that buyers are largely on their own when they purchase this supplement.
Our Conclusive Review About Premier Research Labs ThyroVen
Thyroven is one of the numerous supplements that claim to enhance thyroid function naturally. It claims to use 100% natural ingredients to restore optimal thyroid health and we found that the information on the label corroborates that claim.
However, we found a few qualms with the quality of the product overall. The proprietary herbal blend, for instance, includes Kelp, which is a known allergen.
We were also disappointed by the fact that there is no purchase guarantee offered for this product. Obviously, we cannot recommend such a product as there are other products that are proven and backed by solid guarantees from manufacturers.
Bringing you top reviews and product analysis - Consumer Advisors.