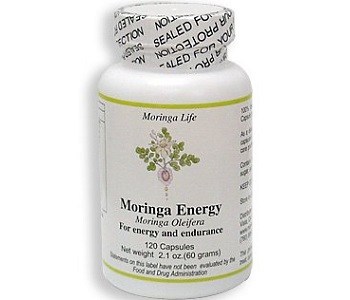 User Ratings (

0

Votes)

0
Do you want a supplement that can help you absorb important vitamins and minerals? Are you not eating enough dark, leafy greens or plant proteins? If you answered yes to either of those questions, you may be interested in adding moringa capsules to your daily routine. Moringa is made from a plant and helps improve the health of your entire body. Read our review below of Morning For Life Moringa Energy to see how helpful moringa capsules are.
Ingredients
The one and only ingredient in this supplement is dried leaf powder. Although there is moringa oil also available, taking a capsule is easier to swallow and having capsules on hand makes it easier for you to travel with. Moringa leaf powder claims to boost your immunity, maintain healthy cells, provide a protein source and help you absorb essential nutrients your body needs in order to function. Morning For Life also promises a boost in your energy rate when taking moringa capsules.
Dosage
There is no suggested dosage on Morning For Life's website, which is quite concerning. When it comes to any dietary supplement, there is always a risk of taking too much or too little of a supplement, which could cause disastrous effects. One capsule contains 425 mg of leaf powder, which is much lower than other brands, which have three times that amount in their suggested dosage Other products warn that if you do not take enough moringa, there are no benefits whatsoever.
Price
You can purchase 120 capsules for just $24.00, which is much cheaper than other moringa products on the market. There is also a discount available if you wish to buy a pack of pills, which consists of 12 bottles. You can save $24.00 if you buy all 12 bottles at once. Free shipping is also provided for any order over $100. There is a discrepancy on the website that states that one bottle contains 150 pills, and underneath it, it states each bottle contains 120 capsules. We were unsure which one is correct.
Guarantee & Feedback
After researching the site, we could not find any guarantee for purchasing and returning moringa pills if they prove to be ineffective. This is a deterrent to purchasing this product because other products and brands offer a guarantee to return a product even if the bottle is empty.
The reviews we found on the product's website were extremely sparse but extremely positive.You can see the vast benefits of moringa after reading from various reviews how it helped boost the health and energy of the customers. Most reviews stated how much more energy the customer has after taking moringa for a couple of years.
Our Conclusive Review About Moringa For Life Moringa Energy Capsules
Moringa is more than a dietary supplement; it provides key vitamin and minerals that you may be lacking in your daily diet, while also helping your overall cellular health. It boosts your immunity and helps eliminate free radicals from your blood. People of all ages use it to help maintain their health. From reviewing the moringa capsules from Moringa For Life, we have seen the ecstatic customer reviews and were impressed by the low price. However,  there were a few details that were amiss when we researched this product. One detail that wasn't clear was how many capsules are in each bottle, which is important information you need when purchasing anything online. It was also unclear how much moringa a person should be taking per day, which is essential information that should be provided with any health supplement.
Bringing you top reviews and product analysis - Consumer Advisors.