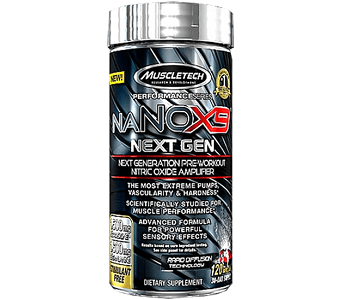 User Ratings (

0

Votes)

0
Muscletech NaNOX9 Next Gen is a pre-workout nitric oxide amplifier that strengthens muscle performance, ensures muscle hardness, and also gives you the mental focus and muscle pump you need to carry on with your workout. You don't need to wait for a certain period of time for the nitric oxide supplement to kick in as the NaNOX9 Next Gen diffuses and delivers nutrient-rich blood to the muscles and hence, it increases the vascularity and size of the muscles. This is why it is perfect for athletes, bodybuilders, and sportsmen.
Since the product is said to be the next big thing in the world of bodybuilding, we decided to conduct a Muscletech NaNOX9 Next Gen review to offer you the details you need regarding this supplement.
Ingredients
The product contains:
Hawthorn: This herb plays a role in taking care of the heart and controls cholesterol levels.
Arginine Inositol Silicate: In around 30 minutes, it ups muscle pumps and enhances blood flow.
Brown Algae Extract: It consists of Fucoxanthin, believed to help in fat loss.
Pomegranate: Acts as an antioxidant and is an effective low-calorie option.
Eleuthero Extract: Betters your endurance level and minimizes fatigue.
Choline Bitartrate: Boosts your cognitive capabilities.
Rhodiola Rosea: This ingredient minimizes fatigue and stress levels, and boosts your cognition.
Dosage
The dosage depends on your tolerance level. At the beginning, prior to your workout, consume two caplets with water and judge the level of your tolerance. Keep in mind that the product is stimulant-free. Do not consume more than four caplets during a 24-hour period to avoid side effects.
Possible Side Effects
Hawthorn can have certain side effects, including nausea, fatigue, sweating, dizziness, insomnia, upset stomach, and a tingling sensation on your face, hands, and chest.
After carrying out this Muscletech NaNOX9 Next Gen review, we feel it is best that you consult a doctor before using this product. Pregnant women, nursing mothers, children and those who have had a heart attack in the past should not use it.
Price
Muscletech NaNOX9 Next Gen can be purchased for $59.99 online. At the time of writing this review, we did not find any special offer or deal that would make the price more competitive.
Guarantee & Feedback
Muscletech NaNOX9 Next Gen is said to be the result of rigorous testing and experimentation. Should you find the product defective or if you encounter any other problem, a 30-day money back guarantee is available.
Our Conclusive Review About Muscletech NaNOX9 Next Gen
The product is certainly a strong nitric oxide booster. However, the possible side effects are of concern. We also found that ingredients like pomegranate, which are antioxidants, are futile in a pre-workout supplement. Some consumers feel that it does not provide good value for money. Nevertheless, other consumers are of the view that it is great for maximizing energy and strength and offering a superior neuro-sensory experience.
Some consumers are happy with the results the supplement has to offer, although they do have a problem with the Niacin rush. It also seems to offer fast results, but you might want to read up on the side effects.
Our Muscletech NaNOX9 Next Gen review is that sportsmen and bodybuilders, who want to build muscle, stamina and get the best pump, can try the product. However, we suggest that this should not be your go-to supplement.
Bringing you top reviews and product analysis - Consumer Advisors.