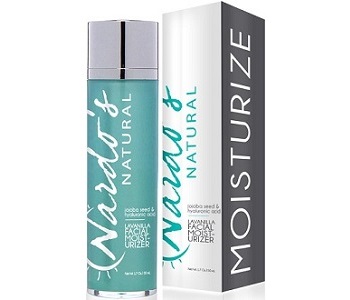 User Ratings (

0

Votes)

0
The following is a review of the product Lavanilla, also known as Lavanilla Facial Moisturizer. This skin-care product is manufactured by Nardo's Natural. The company claims that it has been formulated to firm and hydrate any type of skin. This product is said to be enriched with ingredients such as vitamin B5 to soften dry and scaly skin. The manufacturer claims that only premium ingredients are used in the product. Keep on reading to learn more about this skin-care product that could help lessen the appearance of wrinkles and fine lines, making the user appear more youthful.
Ingredients
Organic jojoba oil
Hyaluronic acid
Organic pomegranate
Vitamin B5
Cocoa seed butter
Vitamin E
Green tea extract
Algae extract
Vitamins B2
Vitamin B12
Vitamin B5 has humectant properties, which prevent the loss of moisture while softening and firming the skin. Clinical studies have shown that there is an ingredient more effective than vitamin B5 ─ medical grade silicone. However, this formula does not contain this ingredient. Nonetheless, vitamins E and C are both ingredients clinically proven to defend the skin against free radicals. This product does not contain vitamin C, depending on vitamin E alone. The ingredient algae extract helps to protect the skin while defending it against premature aging. Sweet almond oil has been shown to be more effective than algae extract as it is absorbed more deeply into the skin. In addition, this product's formula lacks the inclusion of patented ingredients such as Syn-coll, a patented synthetic tripeptide that assists with delaying the skin-aging process. Syn-coll enhances elasticity and firmness. This product is cruelty-free, vegan-friendly, paraben free, and gluten-free.
How To Use
The manufacturer of this skin-care product offers clear information on how to use their product. Instructions are printed on the tube. The face should first be washed using a cleanser. Mornings and evenings, a pearl-sized amount of the moisturizer should be worked into the face and neck, in an upward motion.
Price
This product is available online in a 1.07-oz tube. It may be purchased directly from the manufacturer's website at $24.99, excluding shipping. This company offers no discounts nor package deals to their consumers.
Guarantee & Feedback
The manufacturer will replace any unwanted product with another, but will not refund or credit the consumer. The consumer is offered a mini sample kit. However, this kit is not free: the consumer must pay for this and the shipping fee.
Our Conclusive Review About Nardo Natural Lavanilla
This appears to be a beneficial product. User instructions are clear and detailed, allowing the gaining of optimal results from this product. Also, this product is vegan-friendly and gluten and cruelty-free. However, there are also concerns. There is no guarantee on this product: this places the consumer at risk. In addition, there are no package deals with discounts that would have saved the user some money. There are many other similar types of skincare products on the market, most offering better quality ingredients, firm guarantees and attractive package deals with discounts.
Bringing you top reviews and product analysis - Consumer Advisors.