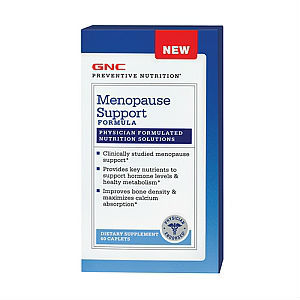 User Ratings (

0

Votes)

0
This particular supplement aids in not only reducing menopausal symptoms but also goes on to look after other age related hormonal issues. These include night sweats, irritation, osteoporosis, forgetfulness and experiencing a decrease in sexual arousal. So, it is pretty much one pill that solves it all.
Ingredients
The contents used in the supplement can be easily divided into three main parts, depending on the advantages they carry with them.
Hormonal Support: Black cohosh, Sophora japonica fruit essence and hops give relief to the menopausal symptoms. This is because they have plant estrogen in them which in turn allows you to adapt to the decreased level of natural estrogen. It also has GLA which is a precursor of prostaglandins. Moreover, it helps in balancing your hormones and ensuring that your immune system, nervous system and circulatory system are functioning to the best of their ability.
Some minerals such as magnesium, iodine, zinc, copper and chromium work towards management of energy and metabolic system. They are also known to work in repairing body cells.
The supplement includes vitamin D which helps in the assimilation of calcium. This in turn helps maintain the bone mass while Gingko biloba stops deterioration of bone density. In addition to this, it also keeps your heart healthy.
Other important ingredients used in the GNC Preventive Nutrition Menopause Support are as follows;
Hops Flower Extract
Chromium
Milk based Protein
Black Cohosh Root Powder
Vitamin B6
Iodine
Thiamin
Zinc
Omnifavlone Sophora Japonica Fruit Essence
Safflower Oil
Cellulose
Natural Vanilla Flavor
Dosage
It is suggested by experts that you take 2 tablets a day. You may take one in the morning and the other in the evening. However, in order to be on the safer side, it is better if you're your doctor as well.
Side Effects
The tablets contain milk protein. Hence, those individuals who are lactose intolerant are advised not to take it. However, the rest are free to benefit from the product. However, make sure you are eating enough and your intake of water is good for the tablets to work in the most effective manner.
Price
A total of 30 tablets are included in the bottle. A bottle costs $49.99. However, those who are members of their website will benefit from a discounted price of $44.99 per pack.
Guarantee
The company exercises a thirty day policy in which you can return the product. You will also be offered complete refund in case you are unsatisfied with their supplement. This will include the customer stating that the product is either ineffective or that its quality is not up to standard.
Conclusion Of Our GNC Preventive Nutrition Menopause Support Review
While GNC Preventive Nutrition Menopause Support is twice as expensive as most products out there, it includes wholesome and natural ingredients. This is a very big advantage as not all supplements for menopause have this quality. It does not consist of an individual morning and night variant which is a slight drawback. However, in order to remedy the menopause symptoms, it is definitely worth a try. The drug is easily available online if you can't find it at a drug store.
Bringing you top reviews and product analysis - Consumer Advisors.