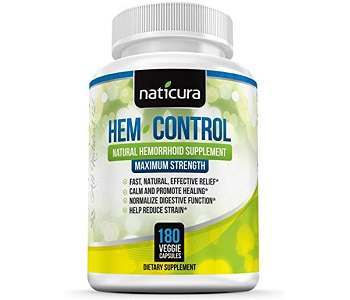 User Ratings (

0

Votes)

0
Hemorrhoids are extremely common and many remedies exist to help tackle the issue.  Here we review Naticura Hem-Control.  Naticura claims that its product soothes and heals inflamed tissues while promoting regular bowel movements. It also differentiates itself from many Hemorrhoid treatments by virtue of its formulation as an oral capsule rather than a topical cream.
Ingredients
Primary Ingredients
Witch Hazel Powder
Horse Chestnut Seed
Ginger Root
Blond Psyllium Husk
Proprietary Blend:

Cayenne Pepper Fruit
Diosmin and Hesperidin (from Sweet Orange)
White Oak Bark
Sage Leaf
Butchers Broom Root
Dandelion Root
Bilberry Powder,
Rutin Powder (Bud)
Mullein Leaf
Plantain Leaf
Red Root
Stone Root
Red Sage Root
Senna Leaf Extract ( with 20% Sennosides).
Secondary Ingredient
vegetable cellulose (capsule)
This a fairly typical list for a natural hemorrhoid-relief supplements. The ingredients include no added fillers, flavorings or colorants. However, the inclusion of senna leaf extract and guar gum is somewhat unusual and may be concerning. Senna is a stimulant laxative, irritating the lining of the bowel to produce stool movement. As enlarged hemorrhoids indicate existing irritation, senna is contraindicated for hemorrhoid treatment by some authorities. It may interact with diuretics and blood thinners. Guar gum also has laxative effects and may interfere with some diabetes medications.  We urge careful consideration before consuming supplements containing these ingredients.
Dosage
To relieve existing hemorrhoids take three capsules a day, with a meal.  To maintain bowel and hemorrhoid health take one to two capsules daily, with food. Naticura notes the importance of proper hydration and recommends drinking six glasses of water per day.
Possible Side Effects
The manufacturer lists no side effects.  However, some reviewers have complained of diarrhea.
Price
Naticura sells Hem-Control through Amazon.  At the time of this writing, the price was $24.88 for 180 capsules.
Guarantee and Feedback
Naticura claims to offer a 120-day money-back guarantee. However, the consumer must email the customer service center to initiate the refund process, so we can provide no further information.  In our view, a good guarantee indicates a good product.  This seems to be a good guarantee, but the lack of details leaves it open to question.
At the time of this writing, 64% of Amazon reviewers gave Hem-Control five stars. The most common customer complaint was the ineffectiveness of the product.  Others stated that the capsule was too large to swallow. It should be noted that Naticura often responds to customer reviews, which shows an admirable level of interaction.
Our Conclusive Review About Naticura Hem-Control
There are a number of positive aspects to Naticura Hem-Control. The ingredient list is all natural, with no fillers, colorants or flavorings. The capsule is made of vegetable cellulose making the product suitable for vegetarians and vegans and the price is competitive.
However, we do have some concerns.  The foremost of these is the inclusion of senna and guar gum. Both may cause diarrhea, which may lead to electrolyte imbalances and other issues, putting sensitive individuals at risk. They have potential interactions with common prescription medications.  While additional fiber may be beneficial for hemorrhoids, it is perhaps best obtained through dietary sources.  We would also prefer more up-front detail on the guarantee, which would give the consumer more confidence when trying the product.  Due to these issues, we cannot fully recommend Naticura Hem-Control.
Bringing you top reviews and product analysis - Consumer Advisors.