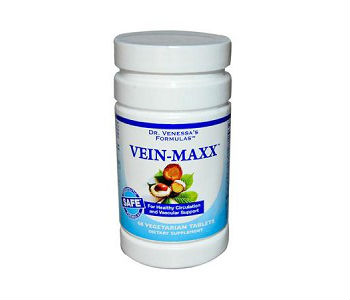 User Ratings (

0

Votes)

0
Introduction
Varicose veins can be a serious problem. Over time, your vein walls can weaken, due to age, genetics, or other physical factors such as disease. When blood flows through these weakened veins, it pushes the walls outwards, which can make them twisted and more prominent on the leg. Sometimes you may hear them called "spider veins" because of the way they look. One in four women and around one in five men will suffer from varicose veins at some point in their life. Since this is such a common affliction, there are of course a lot of products on the market for you to choose from. That choice can be overwhelming, though, and so we're here to help you learn which products are good and which one's aren't so good. Let's take a look at Dr. Venessa's Formulas Vein-Maxx.
Ingredients
Dr. Venessa's Formulas Vein-Maxx has a lot of ingredients in it that are used to fight varicose veins. Here are the active ingredients of this supplement:
Vitamin C
Folate
Bilberry Powder
Wild Blueberry Extract
Butcher's Broom Extract
Gingko Biloba Extract
Horse Chestnut Extract
Polygonum Cuspidatum Plant Extract
Rutin Powder
These ingredients are used to strengthen your veins and improve circulation. Dr. Venessa's Formulas Vein-Maxx also contains a number of inactive ingredients:
Microcrystalline Cellulose
Magnesium Stearate
Maltodextrin
Dicalcium Phosphate
Stearic Acid
Silica
Croscarmellose Sodium
Inactive ingredients such as these are mainly used to help put the active ingredients into pill form.
Dosage
The makers of Dr. Venessa's Formulas Vein-Maxx suggests a dosage of four capsules a day, taken with a meal (preferably not breakfast). As with any medical treatment, however, your doctor may suggest a different dosage.
Possible Side Effects
There were not any side effects listed for Dr. Venessa's Formulas Vein-Maxx. If you do suffer any negative reaction to this treatment, stop use and contact your doctor.
Price
A bottle of this supplement (which contains 60 capsules) can be found online for $17.79. At the suggested dose, this would be a 15-day supply, which puts this product on the expensive end of varicose vein treatments.
Guarantee
We could not find a money-back guarantee being offered by the makers of Dr. Venessa's Formulas Vein-Maxx. You might be able to get a refund from a different retailer if that's where you purchased the product, but the manufacturers of this product do not have a guarantee on their supplement, so if you try it and are unhappy with it, they will not offer you a refund.
Conclusion Of Our Dr. Venessa's Formulas Vein-Maxx Review
Dr. Venessa's Formulas Vein-Maxx, on the whole, is a good product. There is a wide variety of active ingredients, which means that the product should be pretty good at fighting varicose veins, and there are no side effects, which means this product isn't a health risk. However, it's kind of expensive for a varicose vein product, and there is no guarantee, making it a money risk (because you can't get a refund if you aren't happy with the results). If you want something a little safer, you should find a product with a good guarantee.
Bringing you top reviews and product analysis - Consumer Advisors.