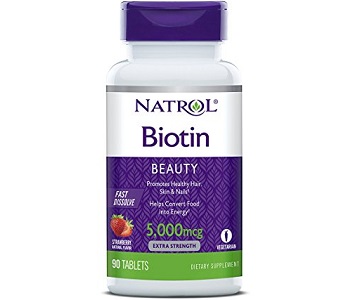 User Ratings (

0

Votes)

0
The following is our review of Natrol Biotin Beauty. This product claims to be able to restore your naturally healthy hair, help your skin stay radiant, and strengthen your nails. It also helps convert food into energy. The tablets quickly dissolve which means faster absorption. It can be taken anytime and no water is necessary. Continue reading for our full review.
Ingredients
Biotin is the only active ingredient in this product. You can choose how much mcg you would like. There are 3 options; 1,000 mcg, 5,000 mcg, and 10,000 mcg. It helps support healthy hair, radiant skin, and strong nails. It also helps support energy metabolism and aids in the conversion of food into energy. This tablet has a strawberry flavor. It contains wheat and does not contain milk, egg, fish, crustacean shellfish, tree nuts, peanuts, soybeans, yeast, artificial colors, flavors, or preservatives.
Other inactive ingredients include: xylitol, cellulose gum, maltodextrin, crospovidone, modified food starch, malic acid, silicon dioxide, natural flavor, stearic acid, beet root extract, magnesium stearate, and citric acid.
Dosage
It is recommended to take 1 tablet a day and no water needed. Regular use will promote healthy hair and strong nails as well as help to restore your metabolism back to normal functioning levels.
Possible Side Effects
There were no possible side effects listed on the manufacturer's website. You should consult with your doctor if you possibly have a medical condition, are taking medication, or are pregnant or nursing.
Price
Natrol Biotin Beauty can't be purchased directly from the manufacturers. It can be purchased in stores or on other retailer's sites. We found a couple of size options for sale on another site, all for 10,000 mcg. You can buy 1 bottle for $7.59 or buy pack of 2 bottles(100 count each) for $14.12. A 90 count bottle of 1,000 mcg tablets will cost you $8.44 and a 150 count bottle of 5,000 mcg tablets will cost you $16.99. This seems to be a very affordable product, since you only need to take 1 tablet a day.
Guarantee & Feedback
This product is not backed by a manufacturer's guarantee since it can't be purchased directly from them. We feel this isn't a smart move on their part since it shows they don't have much confidence in their product's effectiveness. It also doesn't allow the customer to have much confidence. You will need to check the return policy of the retailer you use. Most of the feedback for this product was positive. Many customers shared photos of how their hair and nail growth has improved. A lot of customers also complained how this product made them sick and break out.
Our Conclusive Review About Natrol Biotin Beauty
There are a couple of positive things about Natrol Biotin Beauty.  It is loaded with biotin which is supposed to be beneficial to your hair, nails, and skin. It also is an extremely affordable product since it requires a low dose and comes in bottles with 90-150 tablets. There were also a couple of negatives. There were a bunch of negative customer reviews for this product. Customers said they became ill and began to breakout in acne. Another customer said that they have used better products. This product is also not backed by a guarantee, which makes us question its effectiveness. It also may make the customer have very little confidence in their purchase. We feel you can find a more effective product elsewhere.
Bringing you top reviews and product analysis - Consumer Advisors.