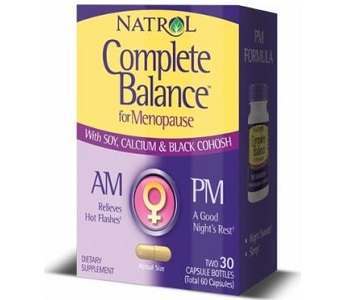 User Ratings (

0

Votes)

0
Menopause is a natural transition in a woman's life that signifies the end of her fertility, and it's often associated with uncomfortable symptoms. Many supplements are available to help deal with the symptoms and among them is Natrol Complete Balance. According to the manufacturer, a daily dosage of Natrol, which includes both a daytime and nighttime formula, can reduce hot flashes, night sweats, mood swings, insomnia and other symptoms that are linked to menopause. It's also beneficial, in helping the body to cope with hormonal fluctuations. Read our Natrol Complete Balance review for more useful information about this product.
Ingredients
Natrol Complete Balance AM Formula contains mainly soy, calcium and black cohosh. Other ingredients include vitamins B1, B2, B6, B12, and Folic Acid. Inactive ingredients include Triterpene Glycosides, Gelatin, Purified Water, Magnesium Stearate, Maltodextrin, Dibasic Calcium Phosphate, Acacia Gum.
The PM Formula contains calcium, soy extract, soy isoflavones and melatonin.
Black Cohosh is a medicinal root that is known to treat women's hormone-related symptoms, such as menstrual cramps, and menopausal symptoms and premenstrual syndrome (PMS).
Dosage
You are directed to take two capsules daily. One capsule should be taken from AM bottle in the morning and one from the PM bottle half an hour before going to bed. Do not exceed the recommended dose. However, prior to use, you need to consult your doctor if you suffer from a medical condition or you are taking prescription drugs. Natrol Complete Balance is not suitable for use by individuals under 18 years of age or pregnant or lactating women.
Possible Side Effects
If, after taking these capsules, you experience fatigue, abdominal pain, loss of appetite, fever, vomiting, brown urine, light-color stools, yellow eyes or skin, discontinue usage immediately and seek professional advice.
Price
A package of Natrol Complete Balance containing 30 AM and 30 PM, costs $9.99 if purchased through the manufacturer's website. Similar pricing could be found on Amazon at the time of our review.
Guarantee and Feedback
The manufacturer offers 100% satisfaction guarantee for a full year from time of purchase. If the product falls short of your expectations you can return the remaining product and you will get your money back for the unused portion.
Feedback on Amazon is quite good with 80% positive ratings and 13% negative.
Our Conclusive Review Natrol Complete Balance
Natrol Complete Balance seems to be a competitive product in the menopause symptoms relief market. It is affordable and has garnered good feedback and tackles many of the common symptoms with separate daytime and nighttime formulas. The return policy is slightly disappointing though, as they only refund you the unused portion (many competitors will refund the full purchase price). And some users have reported the a mildly unpleasant smell
Bringing you top reviews and product analysis - Consumer Advisors.