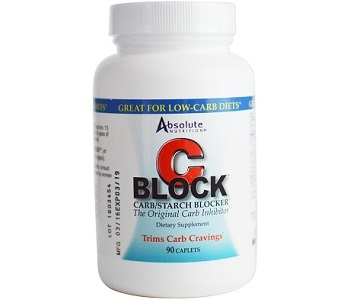 Quality of Ingredient

7.5

User Ratings (

0

Votes)

0
This Absolute Nutrition C Block review examines the details of the product and what the manufacturer has to offer. The product claims to be a carbohydrate inhibitor and also a supplement that can help lower carb cravings. Below you will find more information about Absolute Nutrition C Block to help you make a clear decision about the supplement.
Ingredients
Absolute Nutrition C Block contains 3 main active ingredients. First is trim plex, an extract of the white kidney bean. This ingredient is used to inhibit the absorption of starch. Furthermore, the product contains chromium and vanadium which help regulate blood sugar levels. In turn, this helps to maintain the metabolism and reduce cravings for carbohydrates. Unfortunately, based on our research, we see that the product does not contain chitosan. Lack of this clinically proven ingredient may cause the product to be less effective in comparison with other brands.
Dosage
The manufacturer recommends that the user take 2 caplets 15 minutes before each starchy meal, with an 8 ounce glass of water. The manufacturer does caution the user to not take more than 6 caplets per day. From the research we have done, it seems that the dosage is too high when looking at the white kidney bean intake. A total of 6 caplets well equal to 2100 mg, whereas the clinically proven, safe, and effective dosage is 1000 mg. Opposite to this, the chromium intake is too low. A total of 6 caplets will provide 600 mcg, whereas the recommended daily dosage should be 1000 mcg for optimal effectiveness. These incorrect dosages may either cause the product to be ineffective or it may be dangerous for your health.
Price
The product can be purchased from the manufacturer's website. A bottle of 90 caplets (which will not last a month, even if you take 4 caplets per day) will cost a total of $19.82. This is after the discount price of $29.79. The manufacturer also offers bundle deals, each with a cost effective discount. Thus, the more bottles you purchase, the less you will pay per individual bottle. The bundle deals include 2 bottles, 6 bottles, and 12 bottles. Nonetheless, this price is quite low and may be due to low-quality ingredients.
Guarantee & Feedback
The manufacturer offers a 30-day money-back guarantee on their product. You may try it and if it does not work for you, you may return the empty bottle for a full refund. The only problem we see with this guarantee is that 30-days is much too short time to test the product and know if it will work. This is quite unfortunate and may be a result of the manufacturer not feeling confident in their product's effectiveness. In conclusion, this is not a very strong guarantee. We were unable to find any evidence of customer reviews.
Our Conclusive Review About Absolute Nutrition C Block
In our review of Absolute Nutrition C Block, we found a few things that we like about the supplement. The manufacturer offers a discount on their product as well as bundle deals.
Nonetheless, there were many more things about this product that we do not like. First of all, the product lacks the presence of chitosan. This may cause the product to not be as effective as other supplements that do contain it. Furthermore, the product does not contain the correct daily dosages from each essential ingredient. This may either cause the product to be ineffective or be dangerous for your health. Either way, the product will not benefit you. Finally, the manufacturer offers a very weak return policy that is basically useless. Due to these aspects mentioned above, we do not recommend the use of Absolute Nutrition C Block.
Bringing you top reviews and product analysis - Consumer Advisors.