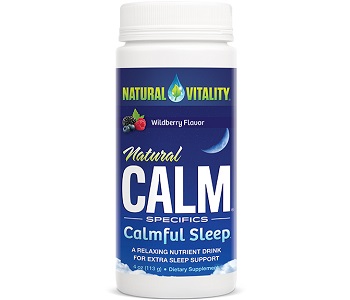 User Ratings (

0

Votes)

0
Natural Vitality's Natural Calm drink is can assist you in sleeping peacefully throughout the night. Read our Natural Calm Calmful Sleep review below to see our opinion on how helpful and useful this drink is in helping to fight insomnia.
Ingredients
Magnesium glycinate
Suntheanine, which is a blend of

L-theanine
Calm-enhancing GABA
Melatonin is naturally found in your brain and is released when you are ready to fall asleep. It is released when the sun goes down and having a normal sleep schedule helps trigger your brain so it knows when to release this specific hormone. Taking a higher amount of melatonin can help make you feel sleepy at bedtime and train your brain to get used to a new bedtime. Both the ingredients GABA and L-theanine have a relaxing and calming effect. Magnesium is the only ingredient that does not promote relaxation. Research has proven that magnesium deficiency can lead to insomnia. Therefore, magnesium is added to this drink to help reduce further sleepless nights due to a possible deficiency.
Dosage
You should take two teaspoons of this drink, mix in with water (preferably hot water) before bed. It doesn't specify what time before going to sleep to drink this. There are no side effects listed nor a list of people who should not take this supplement.
There are 5 mg of melatonin in one dose, which from our research is less than other sleep supplements. Usually other products contain 6 mg of melatonin as well as a combination of amino acids L-theanine and L-ornithine. Two amino acids are more effective at making you feel tired and helping you stay asleep.
Price
One 4-oz bottle costs $17.50. There are no discounts on bulk purchases available. You also cannot buy this directly from the website.
Guarantee & Feedback
There is no stated guarantee for this product, which is somewhat disappointing. Other sleep products offer discount bulk purchases and at least a two-month guarantee, which gives you peace of mind that even if the product doesn't work, at least you can return it at no financial loss.
Customer reviews of this drink are a mixed bag; there are pleased reviews claiming this drink helps them sleep, where other reviews state distaste of the flavor and that there is no noticeable difference in sleep improvement.
Our Conclusive Review About Natural Vitality Natural Calm Calmful Sleep
This product is designed to help restless people fall asleep. In our Natural Calm Calmful Sleep review, we were able to find key ingredients to help you relax and stay asleep with the help of L-theanine and melatonin. However, other ingredients found in other sleep products like the amino acid L-ornithine are found to be more effective to help you fall asleep. Also, as we mentioned above, other products to help you fall asleep have bulk purchase deals as well as a guarantee. Natural Vitality offers neither.
Bringing you top reviews and product analysis - Consumer Advisors.