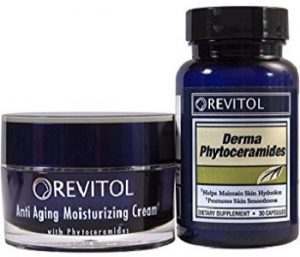 User Ratings (

0

Votes)

0
If you browse the net on a regular basis and have an interest in skin care you have likely read a lot about Phytoceramides; and you are not alone. People all around the globe are going gaga over this anti-aging system. Who wouldn't want to a great anti-aging system for improving their skin and appearance? Phytoceramides and what the do can be found in almost every natural health, spa, and cosmetics supply forums. One product that claims to provide promising results is Revitol Phytoceramides Anti-Aging Combo Kit – Pills and Cream. If you're considering Phytoceramides, and spending your hard earned money for the potential of younger, healthier skin, read our Revitol Phytoceramides Anti-Aging Combo Kit – Pills and Cream review below to get all the details before you buy.
Ingredients
Not surprisingly the main ingredient of Revitol Phytoceramides Anti-Aging Combo Kit – Pills and Cream is Phytoceramides. It has the potential to remove wrinkles by smoothing and firming up your skin.
Other ingredients include:
Shea butter
Edelweiss extract
Stearic acid
Chamomile extract has anti-inflammatory and soothing benefits for the skin and is commonly found in upscale creams for wrinkles. Vitamin E is one of the most important vitamins required for beautiful and healthy skin, and shea butter is rich in Vitamin E. Edelweiss extract has been used for centuries for treating facial wrinkles. Stearic acid helps in promoting water retention in the skin and is also a natural skin cleanser.
Dosage
The manufacturer recommends taking one capsule daily with some water. In addition, you should apply the cream on your facial skin on a daily basis for best results.
Possible side effects
Generally, naturally sourced health supplements are safe to use and this is the case with this product as well. The only effects you should, hopefully, see are the changes in your facial skin.
Price
At the time of our review, you could buy Revitol Phytoceramides Anti-Aging Combo Kit – Pills and Cream for $48 for a one-month supply. A three-month package would set you back $96 while you could buy the six-month package for $144.
Guarantee & Feedback
This product comes with a 90-day money back guarantee, but it is notably limited by the fact that the company will only accept back unopened product. There were no customer reviews on Amazon at the time we researched this article.
Our Conclusive Review About Revitol Phytoceramides Anti-Aging Combo Kit Review
Revitol Phytoceramides Anti-Aging Combo Kit – Pills and Cream provides a two-pronged approach to helping improve skin health. The cream works topically from the outside in, while the capsules work from the inside out.  In theory, this approach has the potential to benefit your skin and help it look more youthful. However, without any customer feedback on this product, we can't say for sure how it works in real-world conditions. In addition, the one-month supply is pricey at $48 and the very restrictive return/refund policy leaves no room to actually try it risk-free. We would suggest looking for a phytoceramides product with real-world reviews that attest to its efficacy and a more customer-friendly refund policy.
Bringing you top reviews and product analysis - Consumer Advisors.