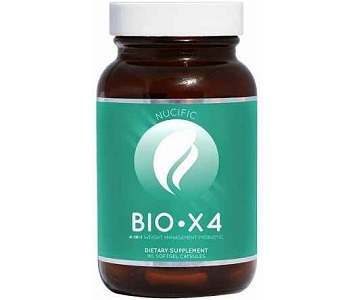 User Ratings (

0

Votes)

0
The following review is for a new weight management product called Nucific Bio X4. Nucific Bio X4 combines four key ingredients that when combined together aims to reduce appetite, increase digestion and support digestive health. Nucific Bio X4 is geared towards consumers who desire to slim down naturally without the use of prescription drugs.
Ingredients
Nucific Bio X4 contains four active ingredients. These ingredients aim to provide a complete support to both metabolic and digestive systems.
Digestive Enzymes (Amylase, Bromelain, and Lipase)
Probiotics (Lactobacillus Blend and Bifidobacterium Blend)
Caralluma Fimbriata extract is naturally sourced from a plant in the cactus family and has been shown to decrease appetite while increasing energy. Green tea extract contains the compound EGCG which has been proven to provide support in fat burning. Digestive enzymes naturally occur in our bodies, however, their quantities decrease with age. They help the body to break down sugars and fats. Lastly, probiotics are friendly bacteria which support the digestive enzymes by helping the body to absorb nutrients while balancing the bacteria in the stomach.
Nucific Bio X4 is lactose-free, made with a vegetarian capsule and does not contain any additives or fillers.
Dosage
The suggested dose for Nucific Bio X4 is one capsule before each meal. It is not specified how long before eating the consumer should take the capsule. There is no difference in dosage according to body type or health. The amount of Caralluma Fimbriata in each capsule is 166mg which seems quite low compared to other products available.
Possible Side Effects
Nucific Bio is 100% natural and it states that there are no known side effects of consumption. The capsules are vegetarian, gluten free and allergen free which supports users with varied diets. The product contains a small amount of caffeine. Women who are pregnant or nursing, or those who have a severe health condition should speak to a physician before using this product.
Price
Nucific Bio X4 offers some discounts when purchasing the product. One bottle of Nucific Bio X4 will cost the customer $99 for a 30-day supply. The discounts begin when buying in bulk. A 90-day supply of Nucific Bio X4 costs $261.36, which is a discount of 12%. A 180-day supply costs $487.08, which is a discount of 18%. This product is only available online.
Guarantee & Feedback
Nucific Bio X4 provides a 100% 90-day money-back guarantee. The manufacturer's website does not specify whether they will accept opened bottles for a refund, or what condition the bottles must be in, although they do claim "no questions asked".
There are hints on the website that they have reviews available, however there is no link to view them. There is a list of positive reports from users, with none of the actual reviews. This is mildly concerning as it would be helpful to find out the complete effectiveness of this product.
Our Conclusive Review About Nucific Bio X4
Nucific Bio X4 has many positive qualities. It uses a combination of natural ingredients that support many aspects of the metabolism and digestive health, providing complete support for the body. In addition, the ease of taking the capsule (one before each meal) along with the risk-free guarantee claims to provide the consumer with a simplistic, trouble-free answer to their weight loss needs.
In saying that, there are a few downsides to this product. Each bottle is quite expensive, at $99 and the discounts offered are not significant. The lack of reviews may also be of concern, as it would be helpful to find out what long-term effects users have found on their bodies. There are other products available that are effective for losing weight, at half the price.
Bringing you top reviews and product analysis - Consumer Advisors.