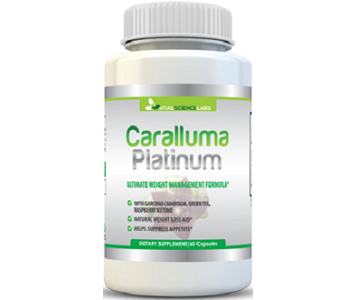 User Ratings (

0

Votes)

0
This is a review for a product from Vital Science labs, which is called Caralluma Platinum. This dietary supplement contains a specially formulated combination of eight herbal ingredients that help you lose weight. The main ingredient in this product is Caralluma Fimbriata. Research has proven that this herb suppresses the appetite by sending signals to the hypothalamus in the brain. It can also facilitate weight loss and a reduction of the circumference of your waist.
Ingredients
According to the manufacturer, this supplement contains Caralluma, Forskolin, Garcinia Cambogia, White Kidney Beans, Green Tea Extract, Green Coffee Bean, African Mango Extract and Raspberry Ketone It contains gelatin, magnesium stearate, calcium carbonate, and FD&C Yellow #5. Although this seems like a satisfactory combination of ingredients, we were concerned about a few things that were included in this product. We believe it contains far too many artificial ingredients for it to be classified as an herbal supplement. Additionally, the inclusion of gelatin in the capsules means that vegans and vegetarians should avoid this product.
Dosage
According to the manufacturers, one serving of this dietary supplement is equal to two capsules. Unfortunately, they offer no further instructions for this product. This is quite concerning as we are not sure if this supplement should be taken on an empty stomach or with a meal. This could have a significant impact on how your body absorbs it. We are also slightly concerned that you could easily consume an overdose of this product as 2000 mg of the active ingredients in each serving is far above the recommended daily allowance of these ingredients.
Price
Unfortunately, you cannot buy this product directly from the manufacturer. Although this supplement is available from a variety of third-party sellers on Amazon, it is currently out of stock. You may be able to find this supplement at your nearest health store but we are unable to give you an indication of the price.
Guarantee & Feedback
Unfortunately, the manufacturers of this product do not offer any guarantees or return policies for this product. We were rather concerned to discover this as guarantee always reassures us that the manufacturer is confident in their product. A guarantee indicates that the company believes they are producing the best possible product. However, a guarantee might be available depending on which third-party seller you choose. After a thorough search on the manufacturer's website, we were unable to find any consumer reviews for this product. This is concerning as these kinds of reviews often give you an indication of whether a product really works.
Our Conclusive Review About Vital Science Labs Caralluma Platinum
Our research about Caralluma Platinum in this review indicates that this is an acceptable weight loss supplement. It contains a blend of eight herbal remedies that help you curb your cravings. This product also helps your body metabolize fats more efficiently. However, we uncovered a few things that should make you think twice about this supplement. The manufacturer provides very few details about this product on their website. You cannot buy it as it is out of stock and there are no consumer reviews to give you an indication of whether this product really works or not.
Bringing you top reviews and product analysis - Consumer Advisors.