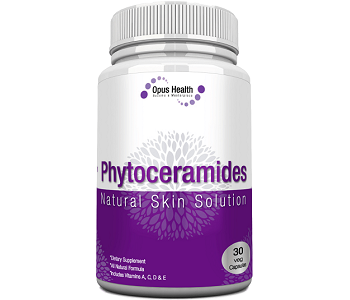 User Ratings (

0

Votes)

0
Phytoceramides supplement the loss of ceramides as a result of aging. These supplements help revitalize the skin and reduce the appearance of fine lines and wrinkles. The following review looks closely at Opus Health Phytoceramides. The manufacturer claims that this product is an extremely safe and valuable supplement for healthier skin. They claim that this product is guaranteed to hydrate and rejuvenate your skin for a younger appearance.
Ingredients
Phytoceramides
Vitamin A
Vitamin C
Vitamin D
This product contains an antioxidant-rich formula that is common to many competitor products. This formula, of which 350mg of phytoceramides is delivered per serving, is beneficial to the skin. The phytoceramides replace the loss of anti-age promoting ceramides in order to reduce the impact of fine lines and wrinkles. The Vitamins are essential antioxidants that prevent the formation of free radicals which can cause cancer, protect the skin from harmful UV rays, and boost collagen levels for younger-looking skin.
Dosage
The manufacturer does not provide sufficient information regarding directions on using this supplement for optimal results. We are under the informed assumption that 1 capsule should be consumed daily but there is little information beyond that. This would provide sufficient levels of the key ingredients which are common to many competitor products.
Possible Side Effects
This product claims to be gluten-free. Therefore, it should not have any negative side effects that are more commonly associated with wheat-based phytoceramides.
Price
This product can be purchased online through third-party sites. Through Amazon, a 30-capsule bottle (1 month supply) can be bought for $289.99. This is an extremely exorbitant price to pay for an anti-aging supplement. The long-term use of this product would be very costly. There are several more affordable phytoceramides on the market and these should be considered before making a purchase. There are no additional discounts or bulk-buy deals available for this product which limits the purchasing options available to you.
Guarantee & Feedback
The manufacturer claims that this product is supported by a money-back guarantee. However, there is no clear stipulation of the return policy and therefore, it is difficult to determine how easy a return process would be. This raises concerns regarding the efficacy of this product. On top of this, several negative customer reviews suggest that this product failed to deliver optimal skin care results. This raises further concern over the effectiveness of this product and its ability to improve skin health and reduce the appearance of wrinkles.
Our Conclusive Review About Opus Health Phytoceramides
Several key ingredients for skin care health are found within this product. These ingredients can prevent the harmful effects of free radicals on the skin and protect the skin from external environmental factors. While these ingredients are known to reduce the appearance of wrinkles and fine lines, they are common to most competitor products. Therefore, the exorbitant price of this product cannot be justified. These, coupled with the negative customer reviews, are just a few of the reasons that we cannot recommend this supplement as effective phytoceramides.
Bringing you top reviews and product analysis - Consumer Advisors.