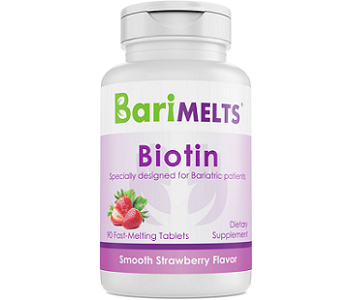 User Ratings (

0

Votes)

0
Biotin is vitamin B6. Without it, the body cannot synthesize the nutrients required for energy and it therefore has huge repercussions. Nervous system health; muscle, skin, nail and hair tissue all deteriorate and so does brain function. Often, after cancer treatment or other invasive procedures which are hard on the body, patients experience hair loss and nail brittleness. Biotin counters this and restores lustrous hair growth and strong nails, as well as bone strength and muscle regeneration.
Today we review Barimelts Biotin. There are many biotin makers on the market, but Barimelts is specifically formulated for you if you've had gastric band or similar surgery. The manufacturer says it is an aid for smoother, shinier hair and strong nails, and good skin growth and normal cell growth. It melts quickly and has a strawberry flavor which is free of sugar.
Ingredients
Biotin 5000 mcg
Mannitol
modified cellulose
natural flavor and color
citric acid
magnesium vegetable stearate
monk fruit extract
Xylitol
Silica
The dose is close to 1700% the daily required dose but you cannot overdose at this amount and you do need a large intake if you are deficient. Xylitol and stevia are the sugar replacements.
Dosage
Take 1 tablet daily or as recommended by your healthcare professional. Allow the tablet to dissolve in your mouth. You don't need water.
Possible Side Effects
Do not give to children and if you are pregnant or nursing, only proceed on the advice of your doctor. Biotin is necessary for a healthy pregnancy, but safety in supplementation form during pregnancy has not yet been established.
Price
One bottle of 90 capsules costs $14.99 on the Barimelts website. Promo codes and discounts seem to be available if you sign up as a Barimelts member.
Guarantee & Feedback
You may ship the product back within 30 days if you are unsatisfied but only unopened bottles may be returned. On Amazon's feedback page, Biotin gets good reviews. It is halal and vegetarian-friendly.
Our Conclusive Review of Barimelts Biotin
It is a good biotin supplement if you're recovering from surgery or on a weight loss regimen but need to boost your vitamin intake. The product is gluten-free, GMO-free and sugar-free. Great care has been taken to ensure that even after major surgery such as gastric band or other surgery, the product is easily digestible and bio-available. It is designed to be gentle on your system and dissolves quickly in your mouth. An added benefits is that you can keep it on you and take it at any time as no water is required.
Bearing in mind you'll need biotin supplementation on an ongoing level and that this won't be a once-off purchase,if you're a savvy consumer you'll be looking for a bulk-buying discount. Barimelts does not offer this but there are other manufacturers who do, some of them with a higher biotin ratio, and also without additives, sugar and preservatives. Biotin is dissolvable in water so instead of being stored in the body, it is excreted in urine. You therefore need to take in new amounts of biotin every day from a supplement if you are not getting it from fresh foods and good fats. Make sure you are getting the most value for your purchase not just per bottle, but over the course of your supplementation period which could be quite lengthy, even years. Also note this product has magnesium stearate and if you've developed a sensitivity to it, you could experience side effects such as headaches and nausea after a while.
Bringing you top reviews and product analysis - Consumer Advisors.