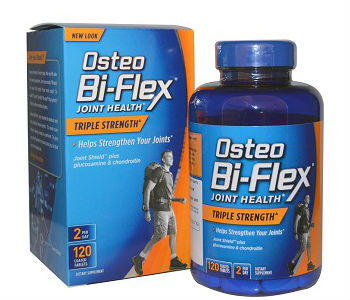 User Ratings (

0

Votes)

0
The Osteo Bi-Flex Triple Strength joint health supplement contains mainly glucosamine, chondroitin and methylsufonylmethane (MSM) – all of them known to promote joint function and to help relieve pain. As we get older, our cartilage sustaining the joints get lost and they lose their flexibility. Osteo Bi-Flex Triple Strength seems to have the necessary ingredients to help you get older without having joint pains all the time.
Ingredients
The ingredients in Osteo Bi-Flex Triple Strength all play a part in maintaining your joints' health and flexibility. They are:
Glucosamine HCI – 1500 mg
Vitamin C – 60 mg
Manganese – 2 mg
Joint Shield™ 5-Loxin® Advanced (Boswellia Serrata Extract) – 100 mg
Sodium – 30 mg
Chondroitin/MSM complex – 1,1 g (containing Chondroitin Sulfate, Methylsulfonylmethane, Collagen, Boswellia Serrata Extract, Boron, Hyaluronic Acid)
Good ingredients are included in this formula. Chondroitin, MSM and glucosamine work well together as they support joint function and reduces pain. It also improves the quality of the synovial liquid. The herbal extracts and the hyaluronic acid also do their thing.
Dosage
One should take two tablets daily on a regular basis.
Price
A bottle of Osteo Bi-Flex Triple Strength costs 41.65USD (120 capsules) and will be enough for two months.
Guarantee
There is no clear guarantee offered on the website. You may be able to get a refund from the re-seller. It all depends on their policy.
Conclusion Of Our Osteo Bi-Flex Triple Strength Review
The fact that it contains glucosamine, chondroitin and MSM in the same formula is good news. Add hyaluronic acid and herbal extracts to that and you have a reliable product. So Osteo Bi-Flex Triple Strength is a good, reliable product.
For a more potent formula with 15 ingredients for better joint function, there are quite a number of products out there that offer a guarantee, since this one doesn't.
Bringing you top reviews and product analysis - Consumer Advisors.