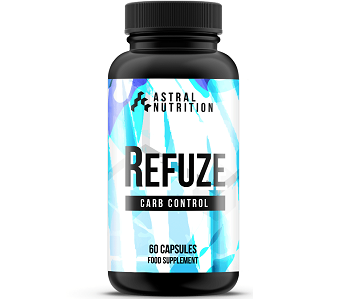 Quality of Ingredient

7.5

User Ratings (

0

Votes)

0
The following review is for a product called Astral Nutrition Refuze Carb Blockers. It is designed to reduce the number of calories that you body absorbs from carbohydrates. It also helps reduce hunger cravings, boost metabolism and regulate blood sugar levels.The manufacturer claims that Refuze is clinically proven to cause rapid weight loss.
Ingredients
The main ingredient is White Kidney Bean Extract. It works by blocking the absorption of carbohydrates, boosting metabolism, suppressing appetite and by controlling glucose levels.
Other ingredients are Vitamin C, Guarana, Natural Caffeine, Chromium, Brown Rice Flour, Silicon Dioxide and Magnesium Stearate
Dosage
It is recommended that you take 1 capsule 30 to 25 minutes before a big meal. Do not take more than 6 capsules a day.
Possible Side Effects
It is advised that you talk to your doctor before taking this capsule if you have a serious medical condition, and if you are pregnant or breastfeeding.
Price
You can purchase this supplement through the manufacturer's website. Prices differ according to the pack that you buy. For instance, a single pack costs $24.99; double back is $44.99; triple pack is $54.99, and so on. The more you buy the cheaper you pay.
Guarantee & Feedback
The manufacturer offers you a 30-day money-back guarantee. If you are unhappy with the product for any reason. Contact the manufacturer and explain what you did not like. They will refund you your money when you return the product, even if you have nothing left in the bottle. This shows that the manufacturer cares about your satisfaction, even though the guarantee period is not long enough to determine the effectiveness of the product, for some people.
There are a number of reviews on the website, most of which are positive. The negative reviews are mostly about late delivery and damaged packaging.
Our Conclusive Review About Astral Nutrition Refuze Carb Blocker
Astral Nutrition Refuze Carb Blocker is possibly effective in promoting weight loss. The manufacturer is confident on their product, and they offer you a 30-day money-back guarantee to show that they have your back. We find it interesting that it comes with free shipping despite the distances between countries and states. It can be a good thing because that means that you do not worry about shipping costs. However, it is very possible that you pay for it in the price, as there is no such as free lunch.
We must mention that we are worried about the guarantee period because many products that are similar to this offer a 90-day money-back guarantee, which allows you more time to determine whether the product is effective or not.
Another concern is that the instructions state that you should not exceed six tablets a day, yet the dosage is only one capsule taken before a big meal. An average person eats three times a day, so it does not really make sense that one would even reach six tablets. Rather look for a product that has clear instructions, and one that has at least 60-day money-back guarantee, for your protection.
Bringing you top reviews and product analysis - Consumer Advisors.