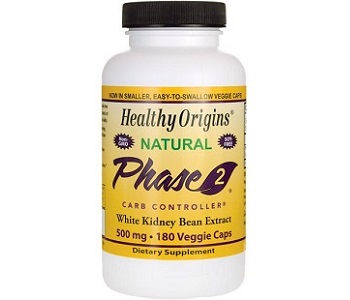 User Ratings (

0

Votes)

0
Read our review of White Kidney Bean Extract from Phase Health to find out more about this wonderful product. The ingredients included in this dietary supplement have been thoroughly researched by experts in the field to help you lose weight and burn fat. The main active ingredient in this supplement is white kidney bean extract, which prevents fat from being stored when you eat carbohydrates. Usually, your body will turn carbohydrates into sugars and then convert those sugars into fat. Additional bonuses associated with the use of this dietary supplement are decreased appetite, steadier blood glucose levels and increased metabolism and energy.
Ingredients
According to the manufacturer, the main active ingredient in this formula is white kidney bean extract. It also contains cellulose, rice flour, and magnesium stearate. When we first looked at the ingredients included in this formula, we believed that it was a rather good combination. However, further research seems to indicate that there are quite a few issues with this product. We believe that there are far too many additional ingredients included in this dietary supplement. These ingredients act as additives, preservatives, fillers, and binders. We were also concerned that this product does not contain a satisfactory concentration of the active ingredient.
Dosage
The producer of this product state that the maximum dosage for this product is four capsules daily. They recommend that you take two capsules with your two largest meals of the day. The manufacturer also recommends that you consult your doctor before taking this supplement.
Price
Sadly, you cannot buy this dietary supplement straight from the manufacturer. However, you will be able to find this product on Amazon.com. One bottle of this supplement costs $12.79. If you subscribe to this product, you will receive a discount that ranges between 5% and 15%.
Guarantee & Feedback
Unfortunately, the manufacturer of this product does not offer any guarantees or refund policies. We found this rather concerning as it shows a lack of respect for the consumer. Additionally, we believe that a company who offers a guarantee on their product is confident in their products and the claims they make. They are thus not afraid to assure their customers that they will be reimbursed if they are unhappy with the quality of the product. Sadly, there are only two reviews available for this dietary supplement. Both of these reviews are positive, however, we feel that these are not sufficient for us to form an objective opinion.
Our Conclusive Review About Phase Health White Kidney Bean Extract
After finishing our review White Kidney Bean Extract, we concluded that this was a rather good product. This product only contains one active ingredient and the manufacturer provides excellent instructions. Unfortunately, our research seems to indicate that there are quite a few issues with this dietary supplement. This product contains a wide variety of unnecessary ingredients. We also feel that there are quite a few ingredients missing from the formula that we would have liked to see. Finally, we were disappointed that there are no guarantees offered to you when you buy this supplement.
Bringing you top reviews and product analysis - Consumer Advisors.