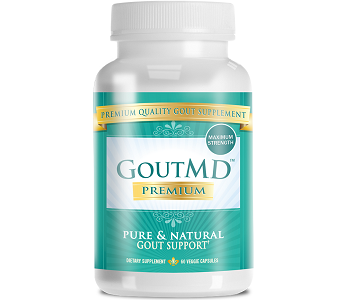 User Ratings (

0

Votes)

0
In this review, we will be analyzing GoutMD Premium, a natural dietary supplement designed to provide the user with relief from the associated symptoms of gout, such as inflammation and pain. Gout is a type of arthritis that manifests when there are high levels of uric acid present in the bloodstream. The build-up of this acid then causes joints to form micro-crystals that can cause the sufferer great discomfort, pain, warmth and swelling.
In recent years, gout has become commonplace as more people lead unhealthy lifestyles. Although gout is known to predominantly affect men, women can also contract this form of arthritis. This condition can be experienced in various stages of severity, ranging from the period leading up to the first attack (known as Asymptomatic hyperuricemia) to acute gout attacks – and if left untreated can develop into a chronic condition.
Ingredients
While researching GoutMD Premium for our review, we found that this product did not contain any added fillers, additives or binders and was vegan-friendly. This dietary supplement consists of a scientifically formulated recipe of nine ingredients, in their optimum amounts. These include; tart cherry extract (contains anthocyanins, which helps manage the build of uric acid), artichoke herb powder (antioxidant with anti-inflammatory properties) and garlic extract (antifungal, antiseptic that helps the body get rid of toxins). Other ingredients found in this product consisted of folic acid, yucca herb stock leaf, milk thistle extract, turmeric root, dandelion extract and rutin. Together, these natural compounds have proved effective when used to assist with the relief and reduction of gout attacks.
Dosage
GoutMD Premium should be taken as a daily dietary supplement. For the most effective results, it is advised that you should take one capsule in the morning and another in the afternoon, with meals.
Price
You can buy Gout MD, in bottles containing 60 capsules (one month's dose) directly from the manufacturer's website, at various different prices and special offer packages.
Sampler's Package (Buy one bottle)  – $48 (save $20)
Beginner's Package (Buy two bottles + get one free)  – $91 (save $113)
Moderate Package (Buy two bottles + get two free) – $112 (save $160)
Best Selling Package (Buy three bottles + get three free) – $138 (save $270)
Guarantee & Feedback
Upon further investigation we found many positive customer reviews, praising the effectiveness of this gout supplement. On top of this, we were pleased to discover that the manufacturer provides a great returns guarantee. In the event that you are not completely happy with this product, you can return it and get your money back. This 100% satisfaction guarantee can be applied for a total of 90 days.
Our Conclusive Review About Premium Certified GoutMD Premium
Our review of GoutMD Premium, we established that this product, when compared to similar offerings on the market, is a product of great quality. Not only does it contain some of the purest forms of its ingredients, in their effective dosages, but it is safe for vegan diets and does not include added fillers or binders. We also appreciated that customers are able to purchase this product at various price points and are able to return within a generous three month period.
Bringing you top reviews and product analysis - Consumer Advisors.