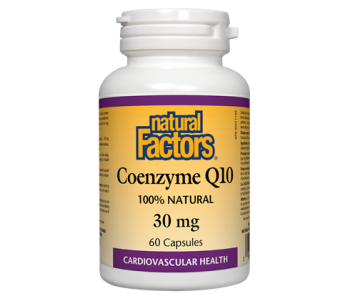 User Ratings (

0

Votes)

0
Today we are conducting a comprehensive review of Natural Factors Coenzyme Q10 in order to provide you with all the necessary information you need to know. This product claims to benefit those who are looking for cardiovascular support, increased energy and prevention from damage caused by harmful molecules. Let's take a closer look at the facts to see if this product lives up to its claims.
Ingredients
The only active ingredient in this product is Coenzyme Q10 which ranges in strength from 30 mg to 400 mg depending on which one you purchase. This enzyme is essential because it is responsible for maintaining healthy functioning organs and while it may be produced naturally by the body, with age these levels start to deplete. Coenzyme Q10 is also essential for producing cellular energy and protecting against damage caused by free radicals.
Dosage
This product is encapsulated using gelatin and may not be suitable for vegetarians. Depending on which strength you purchase, the manufacturer recommends taking 1 to 2 capsules a day.
Possible Side Effects
While the manufacturer has not mentioned any possibility of side effects, research shows that taking more than 300 mg of Coenzyme Q10 may cause rashes, nausea, abdominal pain, dizziness, sensitivity to light, irritability, headaches, heartburn, and fatigue. You should always consult a doctor first if you are breastfeeding or pregnant.
Price
Each bottle consists of 60 to 120 capsules and ranges from $11.00 to $48.00 depending on the strength and unit quantity that you choose. Unfortunately, there are no bulk purchase discounts so consumers will have to perform a price check to see which is the most affordable option for the mg strength you choose. This product can be purchased online directly from the manufacturer or via third-party resellers.
Guarantee & Feedback
Unfortunately, we were unable to find any policy about a satisfaction guarantee. Without a strong money back guarantee we feel that this is a risky purchase. There are very few reviews from end users about this product and none of which have mentioned that they were successful in getting a refund from the manufacturer.
Our Conclusive Review About Natural Factors Coenzyme Q10
We appreciate that this product does not contain any allergens and that there are a variety of strengths to choose from, however, a consumer may be confused as to which strength is best for them without the advice of a healthcare provider. Those who opt for a higher strength may not be aware of the side effects because the manufacturer has failed to list these potential risks. There were only a few testimonials present for this product and we are unable to use the insufficient data to determine if this product is, in fact, effective for some. The lack of guarantee is also a cause for concern because it means that the manufacturer has not provided us with any confidence in the formula and we feel that this is a risky purchase.
Bringing you top reviews and product analysis - Consumer Advisors.