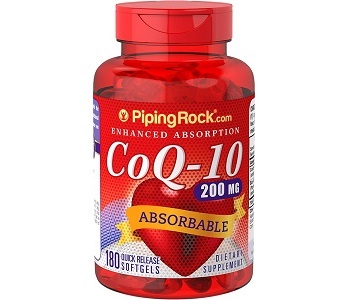 User Ratings (

0

Votes)

0
In this review of Piping Rock CoQ10, we aim to provide you with factual and necessary information to better assist you in making an informed decision about this product. Piping Rock has claimed to have developed a unique CoQ10 formula which is rapidly absorbed and assists in balancing blood pressure levels, increasing energy production and promoting overall cardiovascular health.
These are the facts.
Coenzyme Q10
Black Pepper Extract
Gelatin
Vegetable Glycerin
Soy Lecithin
Annatto Extract
Titanium Dioxide
Coenzyme Q10 is essential for maintaining normal functioning organs and while it is produced naturally by our bodies, factors such as age and statin treatment cause this to decline. Coenzyme Q10 is also responsible for producing cellular energy. Black pepper aids with absorption and enhances the bioavailability of the natural ingredients. The concern we have with this formula is that it contains various fillers and binders such as rice bran oil which has been proven to affect the quality and potency of the natural ingredients.
Dosage
The manufacturer recommends taking one capsule twice a day with meals for optimal results. This equates to a daily intake of 400mg of CoQ10 which is significantly higher in comparison to other leading brands which could cause adverse side effects.
Possible Side Effects
The manufacturer has failed to mention any side effects but research shows that taking doses of CoQ10 that are higher than 300 mg may cause side effects such as rashes, nausea, abdominal pain, dizziness, sensitivity to light, irritability, headaches, heartburn, and fatigue. This product may not be suitable for anyone who suffers from allergies caused by soy. You should always consult a doctor first if you are pregnant, breastfeeding or have any known medical condition.
Price
At the time of this review, the product was out of stock on the manufacturer's website. A single bottle consists of 180 capsules and retails for $35.99 online which was discounted to $25.49. This product can be purchased online via third-party retailers as well.
Guarantee & Feedback
Fortunately,  Piping Rock provides consumers with a 1-year guarantee that is not limited to bottles that have been opened and used. In Order to qualify for this refund, bottles need to be sent back to the manufacturer with a short explanation. We were unable to find a sufficient amount of reviews from reputable sites about this product to determine whether or not consumers have been able to get a refund from the manufacturer.
Our Conclusive Review About Piping Rock CoQ10
We found a few positive aspects of this product when it came down to the refund policy and the natural ingredients, however, we still have some concerns. The first concern is that the product contains various fillers which we mentioned before. These additional ingredients compromise the natural purity and potency of the Coenzyme Q10 extract. The second concern we had is that the dosage seemed significantly higher than most leading brands. Based on the research we found, you may experience adverse side effects due to the high dose. We were also disappointed to find a very limited amount of feedback from consumers which has lead us to believe that the product is not very popular and has not produced any measurable results.
Bringing you top reviews and product analysis - Consumer Advisors.