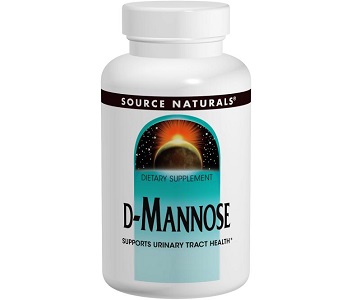 User Ratings (

0

Votes)

0
Urinary Tract Infections or UTIs commonly occur when bacteria like E.Coli travel through the urethra and up to the urinary tract, bladder or kidneys. Symptoms include pain and burning sensation while you urinate, pelvic pain, bloody or cloudy urine, nausea, and vomiting. While some mild cases will heal themselves, most UTIs require treatment. This review is going to examine Source Naturals D-Mannose. D-Mannose is taken as a dietary supplement in order to prevent UTIs from occurring. It is a simple sugar that is related to glucose and is believed to work by preventing the most common UTI causing bacteria, E.Coli, from sticking to the urinary tract wall and manifesting into an infection. Source Naturals claims that their supplement will support the health of the entire urinary tract, the urethra, bladder, ureter, renal pelvis, and the renal parenchyma.
Ingredients
D-Mannose is the only ingredient in this supplement. Each capsule contains 500 mg of D-Mannose and is enclosed in a gelatin capsule.  D-Mannose is a naturally occurring sugar related to glucose, that is commonly found in fruits. It is believed to fend off UTIs because it prevents the most common UTI inducing bacteria, E.coli,  from sticking to the urinary tract walls and multiplying. Another theory is that D-Mannose makes it easier for E.Coli to be excreted in urine.
Dosage
Source Naturals recommends taking one capsule twice daily.
If you are under medical supervision, pregnant or nursing you should consult with your healthcare provider before consuming this product.
Possible Side Effects
The manufacturer does not list any possible side effects. We found that taking an excess amount of D-mannose can cause you to become bloated, have loose stools and diarrhea.
Price
This product is available to purchase on the manufacturer's website in different amounts per bottle. One 30 capsule bottle is $12.75, one 60 capsule bottle is $23.98 and one 120 capsule bottle is $46.50.
Guarantee & Feedback
The manufacturer does not offer any money-back guarantees. Consumers reported that their symptoms worsened after taking this supplement. Many also complained that they did not feel any effects.
Our Conclusive Review About Source Naturals D-Mannose
This D-Mannose dietary supplement appears to be decent. It comes in easy to take capsules and offers 500 mg of D-Mannose per capsule. However, this supplement is significantly more expensive than other D-Mannose supplements that we have seen currently available which offer the same or more D-Mannose dosages. The manufacturer does not offer a money-back or satisfaction guarantee, which makes purchasing this product significantly more risky. This means that if you buy the supplement, take it and experience adverse side effects or it simply does not work for you, you cannot get your money back. We strongly recommend that you contact Source Naturals' customer service to inquire about their up to date return policy should you choose to move forward with this product. Furthermore, when we looked up consumer reviews, we found that many users claimed that they did not experience any effects after taking the supplement continuously and as recommended by the manufacturer. Taking all of these factors into consideration, this product is too risky to rely on for protection against UTIs.
Bringing you top reviews and product analysis - Consumer Advisors.