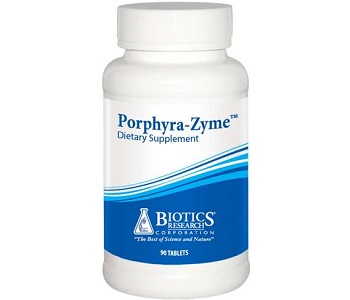 User Ratings (

0

Votes)

0
It is widely believed that if you have had a dental filling, have been vaccinated, eaten seafood, used hair dye or certain paints that you have probably been exposed to toxic metals in your lifetime. Our bodies are made to withstand these metals and easily filter them out but sometimes overexposure can overwhelm your body with toxins and make it harder to get rid of them. Common symptoms of a toxic metal overload are gas, bloating and constipation which can leave you in the market for a product that can help your system get rid of these toxins. This review is going to examine Biotics Research Porphyra Zyme. Porphyra Zyme is a natural dietary supplement that is taken to help your body eliminate toxic metals. It comes in easy to swallow tablets and contains a proprietary blend of fruits and vegetables in addition to Vitamin C.
Ingredients
Vitamin C (as ascorbic acid) – 120 mg
Proprietary Blend (Spinach Concentrate, Mulberry, Organic Beet Concentrate, Vegetable Culture Concentrate) – 210 mg
Inactive Ingredients: Stearic Acid, Magnesium Stearate, Modified Cellulose Gum and Food Glaze.
Vitamin C is an antioxidant that is believed can reduce the toxicity of the metals in your body. The proprietary blend is designed to help flush your system by binding itself to the toxic metals.
Dosage
Pure Formulas recommends taking one tablet one to three times a day or as otherwise instructed by your doctor.
If you are pregnant or nursing you should consult with your doctor before taking this supplement.
Possible Side Effects
The manufacturer does not list any side effects that are possible from taking this supplement.
Price
Biotics Research is not forthcoming regarding their prices. You must log into an account in order to see how much this product costs and to be able to purchase it. You can also purchase this product through a third-party retailer. We were able to find it online through a third-party for $46.23 for one 270 tablet bottle.
Guarantee & Feedback
The manufacturer offers a 30-day return policy on unopened items. This means that if you try the product and experience adverse side effects or have an adverse reaction, you cannot return it. Furthermore, all returns must be authorized by an Operations Manager and will be subject to a 15% restocking fee. There are no consumer reviews available on this product, which suggests that it is unpopular and not a well-known option.
Our Conclusive Review About Biotics Research Porphyra Zyme
This product seems to be decent. It contains two active ingredients that are designed to help your body get rid of harmful toxins that can be causing you to experience constipation and other symptoms. However, there is almost no information available anywhere about this supplement. The manufacturer does little to explain how this product works or what exactly it helps. It appears to be similar to a colon cleanse but if you need to cleanse your system from toxins that are slowing you down, there are many colon cleansers that have better ingredients and offer safe and effective results. In addition to the lack of information, there is not a single consumer review available regarding this supplement. Taking these factors into consideration, combined with the weak manufacturer's guarantee, this product appears to be too risky.
Bringing you top reviews and product analysis - Consumer Advisors.