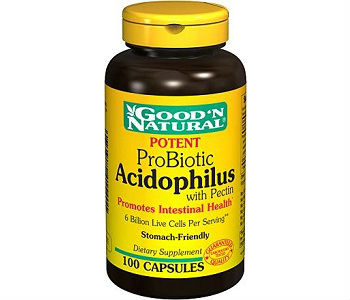 User Ratings (

0

Votes)

0
ProBiotic Acidophilus Good N' Natural is supplement containing Acidophilus that is designed to regulate the microflora in the body so that it stays at healthy levels. Acidophilus is a strain of bacteria that is found in the intestinal tract and it has properties that are quite beneficial for the body, which is probably why supplements containing this bacteria are becoming more mainstream in many supplements. When microflora are at healthy levels in the body, the digestive system runs more efficiently and it helps you stay more fit and energetic. We decided to take a look  at the Good N' Natural's Probiotic Acidophilus Capsules to see if they really work, and we did find that according to many reviewers, this product is up to snuff.
Ingredients
Lactobacillus Acidophilus: every capsule has more than 100 million active Lactobacillus Acidophilus, which includes the metabolic compound that is generated by the bacteria
Silica
Calcium
Vegetable Magnesium Stearate
For those individuals who are concerned about potential allergic reactions that may present themselves when ingesting unfamiliar products, it is important to note that this product does not contain soy, gluten, wheat, egg, lactose, sodium, grapefruit, fish, sweeteners, preservatives, sugar, milk or milk byproducts, nor does it contain any artificial colors or flavorings.
Dosage
The recommended dosage for this supplement is 1 capsule on a daily basis, preferably taken at mealtime.
Side Effects
While there are no known side effects that stem from taking this product; however, it is always a good decision to talk to your health care provider before taking this supplement if you are currently pregnant, nursing, or taking other medication.
Price
The prices of this supplement various depending on where you buy it and how much of the product you purchase. In you purchase this product in one of the various outlets; you are probably going to spend about $8.00 for one bottle containing 250 capsules. You can shop around online and find specials from various merchants who often offer this supplement at a reduced price for those willing to purchase more than one bottle at a time.
Guarantee
Upon researching this product, there was no information found in regards to the company offering a guarantee if the user should feel dissatisfied with the quality or effectiveness of the product. Before trying any new medication, it is always a good idea to make sure that you check out what other reviewers have to say about the product before investing in it. Although not everyone's body is going to react the same way to medication, you can get an overall idea of the efficacy of the product by reading several reviews to see what others have to say.
Conclusion Of Our ProBiotic Acidophilus Good N' Natural Review
One of the things that make Good N' Natural's Probiotic Acidophilus Capsules so popular is that has includes the proper amount of Lactobacillus Acidophilus which helps the body absorb nutrients more efficiently. On the other hand, it is very dissatisfying to discover that even with all the said qualities, this product does not come with any kind of guarantee.
Bringing you top reviews and product analysis - Consumer Advisors.