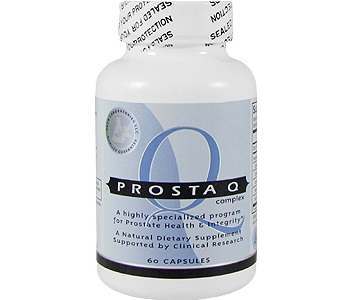 User Ratings (

0

Votes)

0
This is a review for Prosta-Q, an herbal supplement that claims to be an effective remedy for symptoms connected with nonbacterial chronic prostatitis and urinary problems associated with prostate problems. Uniquely blended from all-natural ingredients, the manufacturer says it relieves pelvic pain while boosting your "sexual vitality". The manufacturer has published scientific studies that back the performance of this supplement. One follow-on study that was published in the American Medical Journal showed that 82% of males taking Prosta-Q experienced significant pelvic or genital discomfort improvement (although this was an open-label study, meaning all involved knew they were taking an active remedy and not a placebo). Read our complete Prosta-Q review for more details.
Ingredients
Prosta-Q is mainly made of Quercetin, Cranberry, Saw Palmetto, Bromelain, Papain and Zinc. Its inactive ingredients are gelatin (obtained from collagen), magnesium stearate and maltodextrin.
Quercetin is a bioflavonoid that helps break down free radicals and neutralizes reactive oxygen which are destructive to prostate cells and other cells in the body. It is also acts as prostate anti-inflammatory agent. Cranberry treats urinary problems through detoxification and flushing of the urinary tract. It is also believed to fight bacterial infections in the urinary tract. Saw Palmetto treats benign prostatic hyperplasia (BPH) and Prostatitis. Bromelain, a pineapple extract, inhibits some pro-inflammatory metabolites and aids the absorption of quercetin in the body.
Papain, a papaya extract, generally promotes the intake of other ingredients in Prosta-Q to increase its efficacy in treating prostate issues. Zinc has antioxidant properties, essentially promoting the antioxidant levels of other ingredients in Prosta-Q.
Dosage
It is recommended you take one capsule two to three times a day with meals. When genital discomfort starts to abate, you can gradually reduce the dosage to one or two per day. If your symptoms do not improve after 8-12 weeks, discontinue use of the product, it's likely not going to be effective for you.
Possible Side Effects
If taken without meals you may experience mild nausea. Other reported side effects include diarrhea, vomiting and stomach upsets. Prosta-Q can cause allergic reactions, rashes, congested chest and swollen lips, mouth or throat.
Price
A package of 2 bottles which lasts for 60 days retails at $79.98 on the manufacturer's website. An additional $7.95 will be charged on every order for handling and shipping. They operate on a 60-day auto-reship plan, meaning every 60 days you will automatically be shipped another 60-day supply of Prosta-Q. If you want to cancel future shipments you must contact the company. The one-off bottle cost is $49.99 and bulk discounts start at a 4-bottle package for $47.99 per bottle.
Guarantee and Feedback
The company offers a very limited return policy, accepting only unopened product within three months of the date of purchase.
With very few Amazon customer reviews and none on the product website, we are unable to draw any conclusions from customers' experiences with the product.
Our Conclusive Review About Prosta-Q 
The ingredients in Prosta-Q are all natural and not unusual among competing products for relieving prostatitis pain and for keeping the prostate healthy. The scientific studies may be encouraging but are certainly not conclusive. We do find the potential side effects to be of concern and are not thrilled that the default buying option is their auto-reship plan. Finally, the fact that they don't accept open bottles for refund means you cannot test its effectiveness risk-free.
Bringing you top reviews and product analysis - Consumer Advisors.