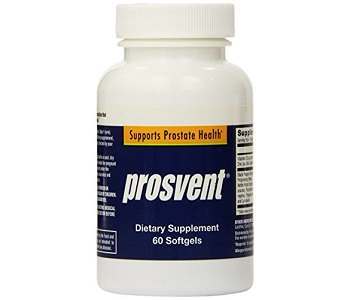 User Ratings (

0

Votes)

0
In our review of Prosvent, a prostate health supplement, we came across statistics that over 30 million men suffer from prostate related problems, in particular an enlarged prostate that blocks the flow of urine through the urethra causing frequent urination. This greatly disrupts sleep and other daily routines. Other glaring statistics indicate that over 80% of men will have an enlarged prostate at some point in their life. Prosvent claims to have a full range of ingredients carefully formulated to support a healthy prostate and help improve men's overall health. Our Prosvent review gives you all the details you need to decide if it is the right product for you.
Ingredients
Prosvent is blended from Beta Sitosterol, Nettle Extract, Pygeum Africanum, Pumpkin Seed Oil, Saw Palmetto, Lycopene, Zinc, and Vitamin D.
Beta-sitosterol reduces urinary problems promoting overall prostate health. Saw Palmetto Extract helps to relax the muscle around your bladder neck, allowing optimal urinary function and flow Nettle Extract relieves symptoms of an enlarged prostate. Pygeum Africanum reduces inflammation by stopping the production of prostaglandins. Lycopene acts as an antioxidant and affects the way cells grow and communicate with each other. Black Pepper Extract contains piperine that promotes absorption. Pumpkin Seed Oil contains polyunsaturated fatty acids which support urinary function. Vitamin D maintains adequate blood calcium and phosphorus levels by enhancing the absorption of these minerals from the diet through the small intestine.  Zinc is basic in overall prostate health.
Dosage
The right dosage of Prosvent for male adults is one softgel two times daily, taken with a meal; or according to the directions from your doctor.
Possible Side Effects
The maker of this product says that it does not pose any harmful effects. However, while most of the ingredients in Prosvent are herbal, vitamin and minerals, some of them are known to pose risks. Saw palmetto has a potential to cause dizziness and headaches. In addition, Saw palmetto and zinc can cause stomach problems like nausea, vomiting, diarrhea and constipation. Zinc may cause a metallic taste in your mouth. Prosvent can interact with other drugs so it's important to consult your physician before using it.
Price
A 60-day (two bottle) supply of Prosvent can be purchased online from the manufacturer's website at a cost of $39.95 per bottle plus an additional $9.95 for shipping and handling. Initially you only pay the $9.95 for shipping but you are automatically enrolled in their auto-reship program. You have 30 days to try and (if you want to) cancel your participation in the program. You will automatically be billed the $39.95 per bottle 30 days after your trial starts unless you cancel and, every 60 days thereafter you will receive a 2 bottle, 60-day supply of Prosvent billed at $39.95 to your credit card.
Guarantee and Feedback
Prosvent's return policy is combined with its 30-day trial period. If, within 30 days of receiving your first two (trial) bottles Prosvent, you do not obtain the desired results, call the company's customer care department to end the auto-reship program. You will also receive directions on how to return the unused portion for a refund of your purchase price (less shipping and processing).
The product has attracted mixed reviews both negative and positive regarding its level of effectiveness. Amazon customer reviews are not impressive with only 61% positive and a very concerning 30% negative rating. That is one of the higher negative ratings percentages in the category.
Our Conclusive Review About Prosvent
Despite the fact that there is no research cited by the company to prove the effectiveness of Prosvent, we do grant that the majority of user reviews is positive. We like the fact that the function of each ingredient has been clearly delineated to help you understand exactly what you are taking. However, we cannot support the auto-billing program and, as mentioned, remain very concerned by the high negative feedback percentage.
Bringing you top reviews and product analysis - Consumer Advisors.