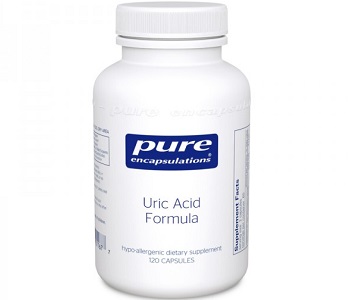 User Ratings (

0

Votes)

0
The following is a detailed review of Uric Acid Formula, a dietary supplement. The statement from the manufacturers of this supplement product is that this supplement helps to ensure healthy uric acid metabolism. More so, it is claimed that this product can assist to maintain healthy liver-enzyme activity and the immune system, as well as facilitating systemic alkalization.
Ingredients
Two (2) vegetarian capsules contain the following ingredients, namely vitamin C (as ascorbic acid) (250 mg), potassium (as potassium citrate) (200 mg), devil's claw (harpagophytum procumbens) extract (root) (200 mg) (standardized to contain a minimum of 5% harpagosides), cherry (prunus spp.) extract (fruit) (325 mg), quercetin (200 mg), bromelain (from pineapple stem) (2,400 gdu/gram) (100 mg), and grape (vitis vinifera) extract (seed) (50 mg) (standardized to contain 92% polyphenols). The other ingredients within these capsules are maltodextrin, ascorbyl palmitate, and vegetarian capsule (cellulose, water).
Several scientific studies indicate that vitamin C may assist to reduce uric acid, thereby controlling gout flare-ups. The same is true about potassium that assist to reduce uric acid. In addition, pain can be lessened by taking devil's claw. Though, together with some of these valuable elements there are certain questionable additions for example ascorbyl palmitate. This ingredient has the purpose of a preservative agent only. While this permits the product to have a longer shelf life, it can lead to harmful bladder-stone growth. This, in turn, may damagingly influence the functioning of the kidneys. The gastrointestinal system may also be compromised, as this ingredient can lead to infection of the gut.
Dosage
The suggestion from the manufacturer is to take two (2) capsules daily, mornings and evenings, with a meal; otherwise, follow the instructions of a health care provider.
Price
One bottle (120 capsules) is available to buy for $36.60. Nevertheless, the manufacturer declares that their dietary supplement is only available from health-care practitioners registered on their network. Our research found that the product is, in actual fact, sold on a third party site, Amazon, for the identical price. There is no need to interact a health-care professional, and on Amazon there is no shipping fee. Still, no discounts are offered by the maker of this supplement.
Guarantee & Feedback
Even though the manufacturer claims copiously about the quality of their dietary supplement, there is no satisfaction guarantee offered by this manufacturer. This is a worry: this could denote that their product is low-grade. Though, this product is tested by third-party groups. Our research showed that, even though there were only 17 reviews on Amazon, these reviews were of high quality. In fact, our research found that over 90% of the reviews were of high quality, and there were minimal deception involved in these reviews.
Our Conclusive Review About Pure Encapsulations Uric Acid Formula
The metabolic arthritis, gout, is an agonizing illness caused by too much uric acid in the blood. Stress and other causes can either activate a flare-up or cause a severe attack. Consequently it is good to have products such as dietary supplement on hand that can vigorously control this condition. On the other hand, even though this health product has quality reviews and is verified by various diverse institutes, there are some fears about this dietary supplement product. First of all, each person is different, for that reason will react differently to dietary supplements. Conversely, this dietary supplement does not offer any way of returning this supplement should it not supply gratification to the purchaser. What is more, the dietary product does not come with any discounts. As a healthy product to be used everyday, a discounted rate could have made this product more cost-effective.
Bringing you top reviews and product analysis - Consumer Advisors.