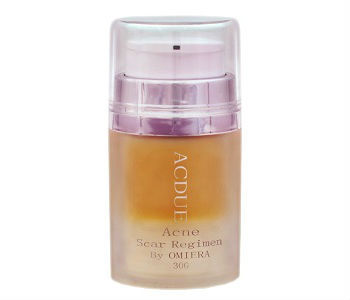 User Ratings (

0

Votes)

0
This is a review of Acdue by Omiera.  Acdue by Omiera is a skin care product that claims to treat acne, reduce acne scars and reduce dark spots. Formulated by a team of physicians and pharmacists at Omiera Labs, Acdue contains natural ingredients to help promote good skin. Available in a cylindrical bottle, Acdue is sold in a 1.0 fl.oz. container. Many people try various home remedies and products to remove or reduce scars. Some people may even consider surgical scar-removal procedures. The skin is the largest organ of the body. It is your greatest protection against pathogens that can make you ill. If you've ever had an open skin injury, you probably noticed a scar after healing. Scars are part of the body's healing process. Their visibility depends on several different factors including nature of the injury; healing time; age; race — high levels of melanin in the skin will make a scar worse.
There are a variety of products on the market and sorting through them and selecting the best one for your needs can be confusing.  Many companies trying to cash in on trends do not really care about the quality of their product, therefore their products may be ineffective.  We decided to conduct some independent online research to learn about this product.  Read on to find out if this product is right for your needs.
Ingredients
As a non-prescription treatment, Acdue claims to contain all natural ingredients. When used twice daily, Acdue promises to provide visible results in just a few days. Some of the ingredients found in Acude include:
Aloe Vera Distillate
Vegetable Glycerin
GlycyrrhizaGlabra
White Willow Bark Extract
Vitamin A Acid
Azelaic Hyaluronate
Magnesium Ascorbyl Phosphate
Salicylic Acid
Alpha Arbutin
Sodium Lactate
Cetearyl Alcohol
MyristylMyristate
Methyl Sulfonyl Methane
Oat Beta Glucan
Calendula Leaf Extract
Phenoxyethanol
Caprylyl Glycol
Sorbic Acid
Aspen Bark Extract
Sodium Benzoate
Fragrance Essential Oil.
Dosage
Make sure to shake bottle well before using Acdue on affected skin. The product is a concentrate solution, which means only a small amount needs to be applied over the affected area after it has been washed. For best results, it is recommended to apply Acdue on affected skin twice daily.
Side Effects
People with sensitive skin may experience slight irritation from the active ingredients that penetrate skin pores and kill acne-causing bacteria. If irritation from Acdue persists for more than 10 seconds, discontinue use.  It may also cause irritation and should not be used on open wounds. Consult a doctor immediately if you have irritation, questions or concerns.
Price
Each 1.0 fl.oz. concentrate of Acdue is sold at $134. This is extremely expensive when compared to other products.
Guarantee
A 30-day money back guarantee is offered on the company website.
Conclusion Of Our Acdue by Omiera Review
This seems like a good product but, their high price point may be a deterrent to some people. It is also not FDA inspected.
Bringing you top reviews and product analysis - Consumer Advisors.