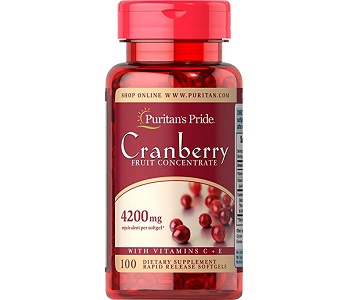 User Ratings (

0

Votes)

0
Urinary tract infections or UTIs are the second most commonly diagnosed infection in America. They are believed to be caused when certain bad bacteria like E.Coli stick to each other or the urinary tract walls, multiply and manifest into an infection. The most common treatment for a UTI is antibiotics but antibiotics are limited in the way that they can only eliminate an existing UTI and cannot prevent future ones from occurring. Your body can also build up a resistance to antibiotics over time. This review is going to examine Puritan's Pride Cranberry Fruit Concentrate with C & E. This supplement is taken as a way to prevent recurring UTIs from happening. It contains a blend of cranberry and vitamins C&E that all have properties that are believed to help prevent UTIs from occurring.
Ingredients
Vitamin C (as Ascorbic Acid) – 40 mg
Vitamin E (as dl-Alpha Tocopheryl Acetate) – 6 IU
Cranberry Concentrate (Vaccinium Macrocarpon)(fruit) – 8,400 mg
Inactive Ingredients: Soybean Oil, Gelatin, Vegetable Glycerin
Vitamin E has a variety of health benefits like balancing cholesterol, repairing damaged skin. thickening hair, balancing hormones and mainly, it can act as an antioxidant and protect from toxins like air pollution. Vitamin C also provides a variety of benefits. Mainly, it acts as an antioxidant that can protect against damage caused by harmful free radicals and toxic chemicals and pollutants. Cranberry is believed to act as a way to protect against urinary tract infections by making the urine acidic and preventing infection-causing bacteria from turning into an infection. It is also believed that certain chemicals in cranberry can keep the bad bacteria from sticking to the cells that line the urinary tract where the harmful bacteria can increase and also stimulate a urinary tract infection.
Dosage
Puritan's Pride recommends taking two capsules 3 times daily preferably after a meal.
They recommend consulting with your doctor before consuming this supplement if you are pregnant, nursing or under medical care.
Possible Side Effects
Puritan's Pride does not list any possible side effects on their website. We found common mild side effects associated with taking a cranberry supplement are inflammation, gas and bloating. Side effects associated with taking high daily dosages of Vitamin E include heart failure in people with diabetes and worsening of bleeding disorders.
Price
Cranberry Fruit Concentrate with C & E is available on Puritan's Pride's website in two package deals of buy 1 get 2 free for $11.39 and buy 2 get 4 free for $22.78. Each bottle contains 250 capsules.
Guarantee & Feedback
Puritan's Pride offers a one-year money back guarantee. The consumer reviews we found are mixed. Many consumers reported that the daily dosage of six capsules daily is extremely high and like a gimmick to sell more. This is consistent with other consumers who claimed that this product is weak and that they did not see any difference after continual use.
Our Conclusive Review About Puritan's Pride Cranberry Fruit Concentrate with C & E
This product appears to be decent. It is a unique cranberry supplement because it also contains vitamins C&E for additional support. However, the dosage is exorbitant and suggests that this product is weak. Puritan's Pride offers nearly no information about this supplement. There is an abundance of cranberry supplements available on the market and with so many different options, it is important to make a well-informed decision about what supplement you will rely on for optimal urinary tract health and to avoid recurring UTIs. You cannot make an informed decision based on the information that Puritan's Pride provides.
Bringing you top reviews and product analysis - Consumer Advisors.