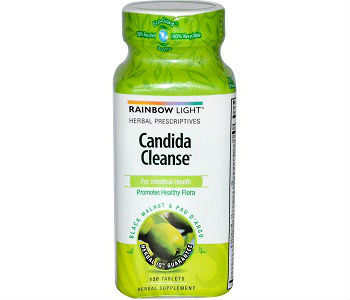 User Ratings (

0

Votes)

0
One thing that people are often curious about is can both modern day and traditional science reach a meeting of the minds and agree with one product? Rainbow Light's Candida Cleanse is one of those products that people would enjoy knowing more about as it is said to be backed by both highly qualified scientists and herbalists. This supplement was formulated by the leading physician Christopher Hobbs, so we wanted to research it and give people some insight as to what this product can and cannot do.
Ingredients
The Candida Cleanse Targeted Blend supplement includes the following:
Berberine Sulfate
Black Walnut
Garlic Extract
Pau D' Arco
Grapefruit Seed Extract
The ingredients in the Digestive Blend includes:
Cinnamon
Ginger
Fennel Seed
Additional ingredients include:
Cellulase
Lipase
Marshmallow Root
Organic Spirulina
Protease
Stinging Nettle
The additional components included in this supplement have been tested for purity, safety, and effectiveness. This powerful formulation contains more than 250 million bioactive probiotics that are blended together with beneficial plant-source enzymes.
One of the things that users liked about this supplement is that it is guaranteed to be 100% natural which means that there are not any artificial flavorings or colors added, nor is there any preservatives, gluten, sweeteners, sugar, lactose, yeast, soy, wheat, or other additives.
Dosage
The recommended dosage for this supplement allows you to take 1 tablet anywhere from one to four times a day. Before beginning to take this supplement or any new medication, it is best to seek the advice of your health care provider to make sure that the supplement and dosage is suitable for your personal needs.
Side Effects
There are no known side effects that stem from taking this supplement; however, if you are pregnant, nursing, or are currently taking other medications, consult with your doctor before taking this supplement.
Price
A cost of one bottle of this supplement is approximately $23.99. Each bottle contains 60 capsules or you may can buy a larger bottle that contains 120 capsules for about $43.99. You can get an even greater discount if you buy three bottles each containing 120 capsules which will cost you about $129.97. When you break the cost down, you are basically spending about one dollar per day to maintain your health.
Conclusion Of Our Rainbow Light Candida Cleanse Review
Each ingredient found in the Candida Cleanse supplement are found to be supportive in improving the overall health of the digestive system. Ingredients contained in this formula such as the are ones that are prove to be very powerful cleansing agents for your system. The Pau D' Arco herb helps to keep the function of the anti- inflammatory and immunomodulatory of the body in check. Other components in this supplement have been found to protect and nourish other parts of the body like the digestive system. Although this supplement proves useful in these areas, it is not necessarily a cure all for Candidiasis.
Bringing you top reviews and product analysis - Consumer Advisors.