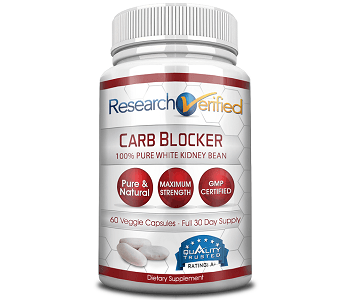 User Ratings (

0

Votes)

0
Research Verified Carb Blocker is a weight loss supplement that utilizes white kidney bean extract. According to the manufacturer (which produces a large line of natural nutritional and health supplements) Carb Blocker is optimized for effective and safe results. Research Verified Carb Blocker's formula is based on clinical studies. In our review below we take a closer look at this supplement to help you decide whether it is worth buying and trying.
Ingredients
Each capsule of Research Verified Carb Blocker contains Chromium (1,000 mcg), Chitosan (600 mg) and of course, White Kidney Bean extracts (1,000 mg).
White kidney bean has been found to be an effective starch blocker within the body. Clinical studies were conducted that showed a significant decrease in body fat (averaging 4 pounds) in subjects that were given 1,500 mg of white kidney bean extracts per day.
Chromium is a metallic element that is also essential in the human body, albeit in small amounts. It can help the body regulate blood sugar levels and can also help control hunger pangs. Chitosan, on the other hand, is a type of sugar that is found in the outer skeleton of various shellfish. This compound is often used to treat obesity and high cholesterol.
Dosage
The dosage for Research Verified Carb Blocker is one capsule twice per day. It is preferably taken at least 30 minutes before a meal. You should drink plenty of water as well to help facilitate the absorption of the formula into the body.
Possible Side Effects
Research Verified Carb Blocker is relatively safe. The manufacturer follows industry quality standards and makes sure their products are third-party tested which you can learn about in Research Verified reviews. However, this product may cause some mild side effects for certain individuals. The most common side effects attributed to white kidney beans are gastrointestinal in nature. Stomachache, bloating, flatulence and diarrhea could be experienced. There is also the risk of allergic reaction to white kidney beans. We always recommend you first consult with your doctor before taking a weight loss supplement.
Price
Each bottle of Research Verified Carb Blocker contains 60 capsules, a full month's supply. You can buy a single bottle or choose a discounted multiple bottle package, all available for purchase on the manufacturer's website:
1 bottle Research Verified Carb Blocker (60-count, one-Month Supply) – $48
3-Month supply – $98 ($33 per bottle)
6-Month supply – $142 ($24 per bottle)
Guarantee & Feedback
Research Verified Carb Blocker comes with a big ol' one-year money-back guarantee. You can return any opened and unopened bottles for a full refund (minus shipping charges). This is a pretty impressive policy and shows that the manufacturer is confident in its product.
Our Conclusive Review About Research Verified Carb Blocker
All in all, Research Verified Carb Blocker appears to be at the forefront of weight loss supplements that utilize the benefits of white kidney bean extracts. The supplement contains not only white kidney bean extract but also additional ingredients to help enhance the overall effect. The multi-bottle packages make the product more than competitive in the carb blocker and weight loss categories and the one year money-back guarantee removes most the financial risk of trying it. We think it's a product you should consider.
Bringing you top reviews and product analysis - Consumer Advisors.