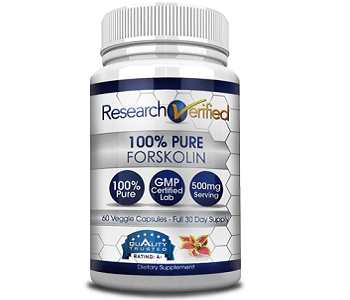 User Ratings (

0

Votes)

0
We have written an informative review of Research Verified Forskolin so that we can have a deeper understanding of this unique product. It is certainly one of the best Forskolin supplements out there because it is made of pure plant extracts.
Forskolin is derived from Coleus forskohlii, a herb used in traditional medicine to aid in weight loss. It has beautiful purple leaves and has since become a super star when it comes to fat burning supplements. Research Verified has carefully measured out just the right dosage of 20% Coleus forskohlii root extract, standardized and purified using the latest FDA approved lab equipment. You need very precise amounts for it to be effective and Research Verified Forskolin ticks off all boxes for a high quality weight loss pill. If you wish to find out more about this product, read on.
Ingredients
Research Verified Forskolin is free of any binders, fillers, and preservatives. As such, it only contains one ingredient: 20% standardized Coleus forskohlii root extract at 250mg per tablet. It is encased in a vegetable-based capsule which makes it suitable for vegetarians.
Forskolin needs to be standardized at 20% as anything less will be ineffective in producing weight loss results. You also need at least 500mg a day for it to work. Ingredients must be carefully measured out, as too little of the extract renders it ineffective, while too much of it can have adverse effects.
Dosage
Forskolin must be taken as a dietary supplement 30 minutes before meals. Take one tablet with a full glass of water in the mornings and another in the evenings. Strictly do not take more than the recommended dose.
Possible Side Effects
Children under the age of 18, as well as pregnant or nursing mothers, should consult with a physician before taking Research Verified Forskolin. Forskolin may lower blood pressure, so individuals with heart disease and low blood pressure should not take the supplement. Forskolin also increases bleeding, so people with bleeding disorders or patients that will undergo surgery should refrain from ingesting it.
Price
Research Verified Forskolin regularly has discounts available. A one month supply of one 60 tablet bottle usually goes up to $69.95, but can be purchased at $48 when there is a sale. You can also avail of several packages that will help you save as much as 53%. A three month supply costs just $120, while a six month supply costs $198. You also get free shipping if you purchase three bottles and above.
Guarantee
Research Verified Forskolin comes with a 365 day money back guarantee. You will be allowed to return the product one whole year after purchase, excluding the shipping costs. Just send in the bottles and they will send you your refund, no questions asked. Reviews however, don't lie: Forskolin is effective, and you can take it with full confidence that you are getting the best product for your money.
Conclusion Of Our Research Verified Forskolin Review
Research Verified Forskolin is undoubtedly the safest Coleus forskohlii root extract supplement out there. It uses the best cGMP certified facilities using the latest FDA approved equipment to produce its tablets, and extensive clinical trials are conducted to ensure the best results. They use only natural, vegetarian friendly ingredients, giving you more value for the weight loss supplements that you purchase.
Bringing you top reviews and product analysis - Consumer Advisors.