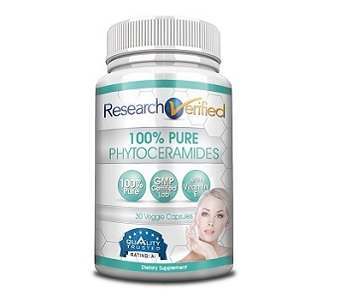 User Ratings (

0

Votes)

0
This article is a product review for Research Verified Phytoceramides. Our extensive research shows that this is a top-rated product. The manufacturer claims that this product has anti-aging qualities that fight wrinkles and fine lines. The product contains 100 percent pure wheat oil, which is essential for moisture replenishment and skin repair. It helps users to have a great feeling and look younger. Read on to find more about this product.
Ingredients
This product contains:
Vitamin A
Vitamin D
Vitamin E
Wheat Phytoceramides- Clinical studies have revealed that Wheat Extract Oil Phytoceramides have the ability to reverse wrinkles and fine lines.
Dosage
The recommended dosage for this dietary supplement is two capsules every day. For optimal results, take one capsule two times in a day prior to meals with eight ounces of water. Every capsule contains 350 milligrams of Phytoceramides. Do not take more than the recommended dosage. Moreover, nursing mothers, pregnant women, persons under 18 years, and people with known health problems should consult a medical professional before using this product.
Possible Side Effects
According to Research Verified, this product has no preservatives, artificial coloring, hormones, and extra ingredients that might lead to undesired effects. The manufacturer refers to this product as risk-free. Therefore, you can use this product without worrying about the possible side effects. There are many reviews about Research Verified showing this manufacturer to be trustworthy when it comes to safety and effectiveness.
Price
The manufacturer offers this product at different costs based on the packages selected by the customer. You can choose from one of the three packages. The first package has only one bottle, which costs 48 dollars. The second package has three bottles and costs 33 dollars per bottle. The last package has 6 bottles and costs 24 dollars per bottle.
Guarantee
This product comes with a risk-free 100 percent money-back guarantee. This is an extraordinary satisfaction guarantee because it lasts for a whole year. Users who are not 100 percent satisfied with the product have the freedom to return it, even if the container is empty, for a full refund of the amount spent on the product except shipping charges. Unopened products returned with opened products are also eligible for a full refund for those who have taken advantage of the discounted packages. This guarantee implies that the manufacturer is 100 percent sure that users will be satisfied with the product. Although the customer reviews identified during this review were few, all of them are positive. These reviews also prove to potential customers that this product is effective in accomplishing what it claims to accomplish.
Conclusion Of Our Research Verified Phytoceramides Review
In summary, potential users have numerous reasons to try this product to treat the wrinkles and fine lines associated with aging. This product contains clinically proven ingredients that are known for their health benefits to the body. Quality Trusted has rated this product as a top-notch product. The product is also manufactured in a GMP certified company where safety, security, and effectiveness are major considerations in manufacturing any product. Moreover, the product is risk-free and is available at discounted prices.
Bringing you top reviews and product analysis - Consumer Advisors.