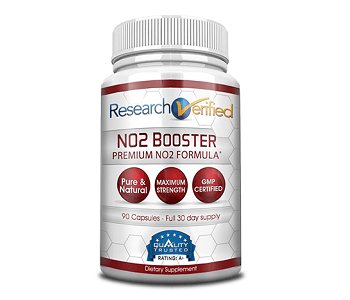 User Ratings (

0

Votes)

0
This review on NO2 Booster, a nitric oxide supplement by Research Verified, details how it can contribute to your health as you bulk up by working out. Through careful research, it is shown that NO2 Booster is among the most effective nitric oxide supplements available in the market. Not only does NO2 Booster help in making the body more suitable for working out, but also it is highly instrumental in promoting greater endurance and increasing lean body mass while the body is under physical stress. At the same time, the clinically-tested ingredients of NO2 Booster have functions that are proven effective in enhancing body strength. Read on to learn more about the benefits of NO2 Booster for working out.
Ingredients
Nine clinically-tested ingredients make up NO2 Booster. All ingredients are specifically curated by Research Verified for their significant effects in promoting muscle growth, endurance, and recovery.
L-Arginine – induces growth hormone production and widens blood vessels
L-Citrulline – strengthens endurance and controls blood pressure
Beetroot Extract – helps improve endurance and performance with its anti-oxidizing and anti-inflammatory qualities
Pine Bark Extract – helps supply oxygen to muscles
Quercetin – helps accelerate nutrient delivery and increase blood flow
Fenugreek Extract – balances male hormones and cholesterol levels
Tribulus Terrestris Extract – controls testosterone levels and promotes endurance
Eurycoma Longifolia Extract – improves endurance and performance in bodybuilding and enhances concentration
Avena Sativa Extract – increases testosterone production
Dosage
To maximize the effects of NO2 Booster, Research Verified has a set of recommended dosages. For workout days, Research Verified recommends consumers to take three tablets of NO2 Booster at least 30 minutes before a workout session, with an option for another three tablets in the morning. For non-workout days, Research Verified suggests an intake of three capsules during breakfast and an option of another three capsules during dinner.
Possible Side Effects
There are no side effects currently associated with NO2 Booster. However, it is important to note that consumers must not overdo their workout limits even if they have taken NO2 Booster already. In that way, consumers would be able to avoid the straining effects of too much workout.
Price
NO2 Booster is sold at $48 a bottle. Additionally, Research Verified currently has purchase offers that enable consumers to have discounts the more bottles of NO2 Booster they buy.
Guarantee
Through the 365-day, 100% money-back guarantee granted by Research Verified for NO2 Booster, consumers have a risk-free assurance in case they are not satisfied with its effects. At the same time, consumers can rely on the excellent customer service of Research Verified whenever they have any concerns regarding NO2 Booster.
Conclusion Of Our Research Verified NO2 Booster Review
NO2 Booster is truly a workout supplement that provides the best protection and greater endurance for the body. All of the clinically-tested ingredients of NO2 Booster combine to make it a highly-effective workout supplement that supplies the body with nitric oxide, which enhances every workout experience through increased testosterone production, stronger endurance, leaner body mass, and quicker recovery after workout. Moreover, consumers have great assurance from Research Verified, which guarantees a 365-day, 100% money-back guarantee and excellent customer service for every bottle of NO2 Booster bought.
Bringing you top reviews and product analysis - Consumer Advisors.