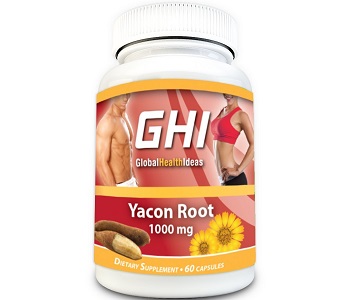 User Ratings (

0

Votes)

0
Losing weight requires commitment and hard work but even the most committed can find themselves needing an extra boost in order to meet their weight loss goals. Navigating the world of diet pills and supplements can be confusing. Consumers have become jaded and wary of infomercial-type products that promise big results with minimal effort but end up falling flat. For this reason, we find it necessary to thoroughly research diet products in order to determine their integrity. This review is going to take a closer look at GHI Yacon Root Extract Pills. Yacon Syrup exploded into the weight loss world after it was recognized for having properties that can suppress your appetite and increase your metabolism. The manufacturer claims that by taking this Yacon Root Extract supplement you will experience a curb in your appetite, an increased metabolism, it will help you maintain healthy blood sugar and can enhance your liver health. GHI claims to use only 100% natural ingredients.
Ingredients
The only active main ingredient in this supplement is 500 mg of Yacon Root Extract per serving. Yacon Root is a plant native to South America. It contains high amounts of fructooligosaccharides that have prebiotic effects and are believed to support healthy digestion and regularity. It is easily digested by good bacteria in the small intestines and the colon. Studies that have been done suggest that it increases the number of healthy, digestive bacteria in the colon while reducing the population of harmful bacteria.
Dosage
GHI recommends taking one capsule twice daily, 30 minutes before meals with an 8 oz glass of water. Do not exceed recommended dose.
Pregnant and nursing women, those under medical supervision and children under the age of 18 should consult a physician before taking this product.
Possible Side Effects
Although the manufacturer does not list any possible side effects, common side effects associated with taking Yacon Root Extract are bloating, cramping, gas and diarrhea.
Price
You can purchase this product exclusively online through a third-party retailer. We were able to find one 60 capsule bottle for $18.88 on a third-party retailer's website. There are no bulk purchasing packages or discounts.
Guarantee & Feedback
GHI claims to offer a 100% money back guarantee but they do not stipulate the terms and conditions. We strongly advise you to contact their customer service to inquire about their up to date return policy. We found many consumer testimonials that reported that this supplement did not have any effect on them.
Our Conclusive Review About GHI Yacon Root Extract Pills
This product appears to be decent. It comes in easy to swallow tablets and the manufacturer offers a money-back guarantee. However, GHI does not stipulate how much time you have to make a return and if returns include opened and unopened bottles. For this reason, you should contact their customer service, should you choose to move forward with this product, to inquire about their up to date return policy. Throughout our research of this supplement we continuously saw reports of dissatisfied consumers who claimed that after they took this supplement as the manufacturer recommends and over an extended amount of time, they experienced no results. Some consumers also claimed that they found the dosage to be misleading. GHI boasts on their label that their product contains 1000 mg of Yacon Root Extract but in reality, every capsule contains only 500 mg. This supplement is too risky to try out and we are inclined to look into other Yacon Root supplements that offer consistent and straightforward information.
Bringing you top reviews and product analysis - Consumer Advisors.