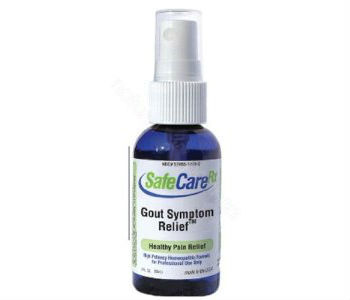 User Ratings (

0

Votes)

0
SafeCare Rx/King Bio Gout Symptom Relieve is a fast-acting product that gives the user temporary relief from symptoms associated with gout. It helps to diminish pain, reduce swelling and calm itching in joints and toes making gout more easy to manage.
Ingredients
Ammonium Phosphoricum – Helps to ease inflammation of the joints.
Belladona – Helps to decrease joint inflammation and redness while also reducing pain.
Colchicum – Analgesic that reduces pain so that there is less sensitivity surrounding the joints and muscles.
Formicum Acidum (extract from ants) – Helps to balance the pH levels in the bloodstream by neutralizes uric acid and allowing them to pass harmlessly out of the body through the urination process.
Fraxinus excelsior – Puts a halt to pain and inflammation.
Ledum – Aids in the reduction of inflammation.
Natrum Carbonicum – Speeds the healing process while minimizing joint pain and inflammation.
Nux vomica – Decreases inflammation and localized heating of afflicted muscle tissue whiles keeping itching under control.
Utrica urens – Decreases redness and swelling in the joints during gout flare-ups.
Dosage
This product has two dosing methods. It can be used as an oral medication that requires spraying the product directly into the mouth. The suggested dosage for this method for adults requires 3 pump sprays and one pump spray for children under the age of 12.
It can additionally be used topically by spraying the product directly onto the affected area 2-6 times per day until symptoms subside.
Side Effects
SafeCare Rx/King Bio Gout Symptom Relief is a fast-acting gout treatment supplement that provides short-term pain relief from gout symptoms. This product has no long-term benefits and requires continued use as necessary whenever the gout symptoms present themselves.
Price
The cost for this product is $24 for a 2 ounce bottle, although there are instances when this supplement is  available through websites like Vitaliving for a lower price of $21.60 per bottle. One bottle of this spray typically lasts for one or one and  a half months.
Guarantee
The company does not offer any guarantee as to the effectiveness or quality of this product, nor is there a refund policy should the customer feel they are unsatisfied with the results. However, the all of the ingredients found in this supplement are FDA has approved dietary supplements and for use in homeopathic remedies.
Conclusion Of Our SafeCare Rx/King Bio Gout Symptom Relief Review
This product is not meant to cure gout but it is an effective yet temporary treatment or for relief of inflammation, itching, and pain associated with gout. This product does not offer any long-term benefits.
Bringing you top reviews and product analysis - Consumer Advisors.