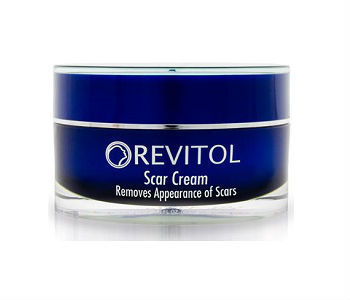 User Ratings (

0

Votes)

0
Revitol Scar Cream claims to reduce the redness and bruising associated with scars caused by injuries or acne.  This product claims to make old and new scars less noticeable.
Ingredients
Revitol Scar Cream has the following ingredients:
Acetyl Hexapeptide 8
Butyrospermum Parkii Shea Butter
Ethoxdiglycol
Glyceryl Stearate and PEG 100
Macrocystic Pyrifera Extract
Pantothenic Acid
Retinyl Palmitate
Tricaprylin
Water
Dosage
The recommended application of Revitol Scar Cream is twice a day.  There is no other information available.
Side Effects
Revitol Scar Cream can cause skin irritation for those with allergies.  It is recommended to consult a physician prior to use.  Honesty seems to be the policy here.  That is a good thing.
Will This Product Provide Long-Term Results?
Revitol Scar Cream use can lead to long-term results as long as the proper procedure is followed.  Scars will slowly fade over time and become less noticeable as long as there is continuous application.
Price
Revitol Scar Cream is listed at the following price points:
1 Jar — $39.95
3 Jars — Buy 2 Get 1 Free — $79.95
6 Jars — Buy 3 Get 3 free — $119.95
Revitol Scar Cream seems to be very competitively priced given the purchase options.  The main issue with the pricing is that the math does not add up.  On the 3 Jars of the product,  the price is $0.05 more than what it should be and $0.10 more on the 6 jars.  While this may be insignificant or just an oversight, there are some consumers that may see this and immediately look for another product.
Guarantee
Revitol Scar Cream has a 90 day money back guarantee.  If a consumer feels the product is no longer effective or does not produce the desired results, they can return it for a full refund by contacting customer service and getting a Return Merchant Authorization (RMA) number.   There are a few things that should be pointed out with this guarantee.  First, opened products cannot be returned.  Second, all refunds are minus shipping charges.  Finally, there is a $10 restocking fee.  So, how is this even a money back guarantee?  It seems more like a deterrent from using the money back guarantee.
Conclusion Of Our Revitol Scar Cream Review
While Revitol Scar Cream is a good product but does not have the money back guarantee..  Revitol Scar Cream could be a great product, but one of the major purchasing factors guarantee.  There are so many stipulations and criteria for using this money money back guarantee that it seems to not even be worth it, especially with the $10 restocking fee.  Any consumer will give pause if they are looking to try a product that claims a money back guarantee, and then sees this guarantee that has so many criteria that it makes it void.
Bringing you top reviews and product analysis - Consumer Advisors.