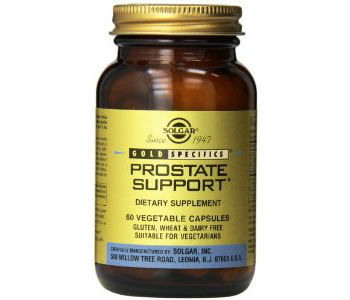 User Ratings (

0

Votes)

0
Aging makes men and women prone to many health complications. Some disease may commonly occur in both men and women, whereas some may be occurring only in men or women. One of the common health complications for old men is benign prostatic hyperplasia, which is a prostate dysfunction due to enlargement of prostate gland. Even though prostatic hyperplasia is termed as benign (in pathological term, benign means not dangerous to health, or not recurrent or progressive), it is of course painful condition. Prostate dysfunction could prompt pain in prostate gland and urinary track, pain or burning sensation during urination, frequent urination or drips and trickles.
In order to address benign prostatic hyperplasia, Solgar Prostate Support is formulated by combining useful minerals, vitamins and herbal extracts.
The Solgar Prostate Support is formulated by combining nutrients and herbal extracts that are beneficial to prostate gland, urinary track and urinary bladder. This is a dietary supplement which comes in a vegetable capsule. This product targets the problems in the prostate gland and genitourinary organs and maintains overall health of prostate gland and genitourinary system.
Ingredients
Most of the ingredients used in the Solgar Prostate Support are herbal extracts or plant extracts. No artificial substance is used in this product. The ingredients collectively target prostate complications and relieve you from burning sensation, pain and other inconvenience in your urinary system and prostate gland.
Selenium: A nonmetallic element that works as antioxidant
Lycopene: A carotenoid that saves you from the risk prostate cancer
Citrus Pectin: Water-soluble colloidal carbohydrates derived from citrus fruit. Citrus pectin is used in the Solgar Prostate Support in modified form
Soy Germ Extract: A highly proteinaceous vegetable, usually taken as a replacement for animal protein).
Pygeum Africanum extract
Pumpkin powder: Rich in vitamin A
Saw Palmetto Extract: A palm like fruit that maintains good prostate health and strengthen urinary system
Stinging Nettle extract: Nettle is rich with protein, vitamins and minerals
Dosage
The recommended dose for Solgar Prostate Support is twice a day, every day, or as suggested by your healthcare provider, whichever is convenient to you. For best results, Solgar Prostate Support should always be taken after meals.
Side Effects
The Solgar Prostate Support formula contains natural ingredients. There are no harmful effects caused by the minerals, vitamins and herbal extracts contained in this product. It is a safe product for men who want to combat benign prostatic hyperplasia.
Price
A bottle of Solgar Prostate Support containing 60 capsules costs $32.99. The retailers or manufacturer do not provide promotional offers such as discounts or free shipping.
Guarantee
The Solgar Prostate Support is a wonderful dietary supplements aimed at men suffering from benign prostatic hyperplasia. Unfortunately, if the product does not work as claimed by the manufacturer or seller, there is no money back guarantee offered.
Conclusion Of Our Solgar Prostate Support Review
The Solgar Prostate Support may have proved beneficial for some users, but having no guarantee does not give any consumer assurance that it is as effective as reputed.
Bringing you top reviews and product analysis - Consumer Advisors.