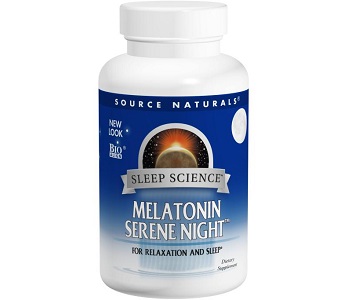 User Ratings (

0

Votes)

0
Read our review of Source Naturals Sleep Science Melatonin Serene night about how melatonin is key in helping you fall asleep. If you suffer from insomnia or are just having a sleepless night, taking a sleep aid can help you take that extra step to ensure you're getting your required amount of sleep per night.
Ingredients
Other Ingredients:
Microcrystalline cellulose
Dibasic calcium phosphate
Stearic acid
Modified cellulose gum
Magnesium stearate
Silica
Melatonin is a natural hormone that is released when it is time to go to sleep. Nowadays our eyes are glued to our screens, and the bright lights actually reduce the level of melatonin in our brains. Therefore, taking melatonin as a supplement as well as amino acids like L-theanine is a great way to feel tired and be able to fall asleep on time.
Other supplements that treat insomnia also contain another amino acid called L-ornithine, which is more effective than L-theanine, especially when it is combined with melatonin. We also noticed Magnesium was not included in the pill as well. Most sleep aids contain magnesium as insomnia is a common side effect of magnesium deficiency.
Dosage
To take this medicine, you should take one tablet with water at bedtime. You should not take this tablet with alcohol. If you are pregnant, breastfeeding, or have asthma, it is not recommended to take this supplement. Consult with your doctor before purchasing.
Most sleep aids that are the most effective contain 6 mg of melatonin, whereas Melatonin Serene Night only has 3 mg. A higher dosage of melatonin not only helps the user fall asleep more quickly but also reach REM stage of sleep that is essential in your sleep cycle.
Price
One bottle with 60 tablets costs $9.25, and a bottle of 120 tablets costs $17.50. There are no bulk discounts available.You cannot purchase this product directly from the website.
Guarantee & Feedback
Source Naturals does not offer any discounts or guarantees. Having a guarantee on any kind of supplement is important because it is not like medication and sometimes doesn't work. Some dietary supplements and sleep aids do have guarantees for at least two months, so it is unfortunate there is no option here.
We could not find any reviews for this product, positive or negative. Perhaps this product is new to the market so no one has bought it yet.
Our Conclusive Review About Source Naturals Sleep Science Melatonin Serene Night
If you are looking for an inexpensive sleep aid to help with your insomnia, Sleep Science Melatonin Serene Night is perfect for you. Its combination of L-theanine and melatonin helps calm you down and sink into a good night's rest. However, there is only half the amount of melatonin that is usually effective in other sleep aids, and there is no product guarantee, which are both incentives to look for better, higher quality products.
Bringing you top reviews and product analysis - Consumer Advisors.