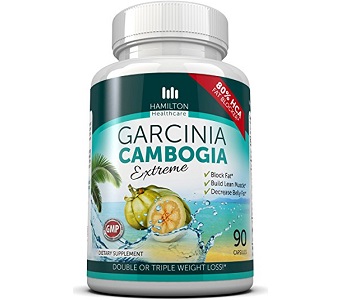 User Ratings (

0

Votes)

0
Today we review Garcinia Cambogia Extreme manufactured by Hamilton Healthcare. Garcinia Cambogia is a natural appetite suppressant that claims to help you lose weight and fight off sugar cravings. The obesity rate among adults Americans ranges from 32.2% for men and 35.5% for women. This data suggests that a lot of people struggle with their weight and could use some help in getting healthy. Garcinia Cambogia has also shown to reduce high blood pressure, boost energy levels and help you to maintain steady sugar levels in your bloodstream. If you think you can benefit from this product, read the rest of our review below.
Ingredients
Calcium
Garcinia Cambogia Extract
Vegetarian Capsule
Cellulose
Potassium and Calcium help your body to build muscle, prevent fluid retention, maintain a healthy electrolyte balance, boosts your metabolism and helps to strengthen your bones and teeth. Garcinia Cambogia contains HCA which helps to stop the fat-making process in your body and can also help lower your cholesterol levels. This product does not contain any binders or fillers but has been manufactured in a factory that processes milk, eggs, fish, tree nuts, peanuts, wheat, shellfish and soy.
Dosage
It is advised that adults take 1 capsule 30 minutes before each meal for maintenance. For best results, you can take 2 capsules 30 minutes before each meal. Do not take more than 6 capsules a day.
Possible Side Effects
Minor side effects can include nausea, diarrhea or stomach cramps. Please talk to your doctor before taking this supplement if you are pregnant, nursing or if you are taking any prescription medication for a serious health issue.
Price
Normally you can buy this product from Amazon for but they are currently out of stock. You can find this product online at other retailers for $24.95. One bottle contains 180 capsules, but you can also buy bottles with less product if you would first like to try it out. The 180-capsule bottle can last you anything from a month to 3 months depending on how much capsules you consume per day.
Guarantee & Feedback
Hamilton Healthcare does provide a 60-day money back guarantee if you find that you are unsatisfied with this product. However, we could not find any specifications regarding this guarantee so we have no way of knowing under what conditions this guarantee is valid. Customer reviews regarding this product are varied. Up to only 50% of the customers seemed satisfied with the product with the rest complaining that it did not help their weight loss at all.
Our Conclusive Review About Hamilton Healthcare Garcinia Cambogia Extreme
We like that this product includes varying ingredients that not only aid weight loss but that helps to keep one overall healthy. We also like that this product has a 60-day money back guarantee. However, we do feel that the guarantee lacks necessary specifications and we also aren't too thrilled about the numerous negative reviews that this product received on Amazon. Seeing as this product is also out of stock at large retailers it can make finding and buying it a bit of a hassle.
Bringing you top reviews and product analysis - Consumer Advisors.