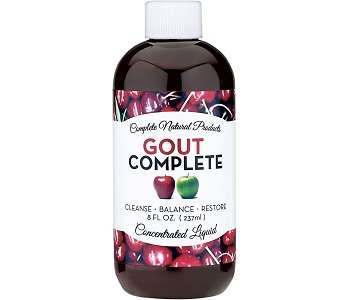 User Ratings (

0

Votes)

0
Gout is a serious form of arthritis, otherwise known as rheumatic disease. This is caused by uric acid crystals that deposit in the soft tissue and fluids in the human body. The problem is caused by too much or too little uric acid in your system. There are many products available on the market that aim to rectify this problem. We are going to review the product Gout Complete.
The reason this topic is so important is because if gout is left untreated, you will suffer swollen, inflamed joints that become very painful. The longer gout is left with no treatment, the worse the symptoms can become. Recurrent bouts have been proven to cause gout arthritis and chronic arthritis. Gout has been proven to be the cause of 5% of all cases of arthritis in the USA. So what can Gout Complete do for you?
Ingredients
Gout complete offers 35 different ingredients in one product. The product claims to contain herbs, minerals, amino acids and the main ingredient of apple cider vinegar. We have listed below the main active ingredients that will actually give you proven results.
Apple cider vinegar – this can help reduce acidity in the body. Apple cider vinegar is rich in magnesium, sodium, calcium and iron which are all essential micronutrients.
Cherry tart concentrate – this has also been proven to have many positive healing properties in the body. It contains anthocyanin which is an antioxidant.
Ginger – this is an easy way to supply your body and organs with a high, natural dosage of nutrients.
Other ingredients include L-arginine, devil's claw root, milk thistle, and stevia. Many of the products listed are for taste purposes over anything else. That information is clearly visible from our research on the manufacturer's website.
Dosage
Gout Complete comes in liquid form. Users should drink a single ounce diluted in 4 ounces of water. This should be done twice daily for the first two days. If you wish to prevent any problems instead of treating symptoms, you are advised to use between 2 ounces a week to 2 ounces a month. Dosages have not been approved by the FDA, so you must remember to take due caution and be vigilant.
Possible Side Effects
The manufacturer cautions to check that you are not allergic to apple cider vinegar before buying this product.
Price
You can buy this product in three different sizes from the manufacture's website.
A 4-oz bottle will cost $13.95.
An 8-oz bottle will cost $24.95.
A 16-oz bottle will cost $45.95.
This works out to be quite an expensive product, particularly as a bottle will not last that long.
Guarantee & Feedback
Gout Complete comes with a cool 60-day money-back guarantee, so if you have any worries or problems there is a safety net provided for you. However, you are not able to return the product before 30 days.
The majority of the reviews on the manufacturer's website are positive. However, negative reviews may have been deleted.
Our Conclusive Review About Gout Complete
We managed to find a lot of good reviews on the seller's main website but found little elsewhere on the internet. We are a fan of the list of ingredients but we are not fully sure that all 35 ingredients are essential. This product may also work out expensive in the long run, as a 4-ounce bottle will only last 2 days if you are taking 2 ounces of the product a day. Although this won't be the case for maintenance use, a bottle won't last all that long.
Bringing you top reviews and product analysis - Consumer Advisors.