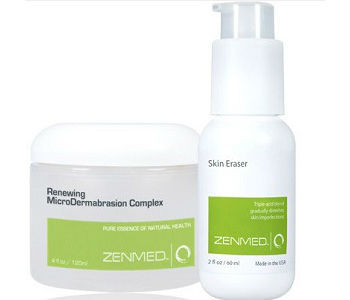 User Ratings (

0

Votes)

0
Zenmed Scar Treatment claims to eliminate scars caused primarily by acne and other damages to the skin.  This product claims to be an instant solution to all those unsightly scars.
Ingredients
Zenmed Scar Treatment lists the following ingredients:
Renewing MicroDermabrasion Complex
Purified Water
Montmorillonite
Ground Walnut Shells
Zinc Oxide
Glycerin
Extracts of Chamomile
Sea Kelp
Sage
Coltsfoot
Yarrow
Balm Mint
Althea
Wild Thyme and Horsetail
Vitamin B5, C and E
Allantoin
Glyceryl Stearate
Phenoxyethanol
Ethyl Hexyl Glycerin
2 fl oz / 60 mlSkin Eraser
Purified Water
Ascorbic Acid
Glycerin
Glycolic Acid
Sclerotium Gum
Lactic Acid
Allantoin
Sodium PCA
Panthenol
Sodium Alginate
Phenoxyethanol
Ethyl Hexyl Glycerin. Non-Comedogenic
100% Vegetarian
Paraben-Free Formulation
No Artificial Colors or Fragrances
These ingredients have no description as to their purpose.
Dosage
Zenmed Scar Treatment is recommneded to be applied to the affected area twice daily.
Side Effects
Zenmed Scar Treatment claims  skin irritation can happen with anyone that has pre-existing allergies.  Honesty is a good thing.
Will This Product Provide Long-Term Results?
Zenmed Scar Treatment claims that any long-term effects depends on how the user disciplines themselves.  This seems like they are passing the effectiveness off on the user and if they use the product as recommended. Why pass the buck off to your consumers as far as they effectiveness of your product?
Price
Zenmed Scar Treatment is listed at the following price point:
 $72.00 (there is no information as to the ounce or milliliter size of the product)
Zenmed Scar Treatment seems to be a little on the expensive side with little to no information available as to what the consumer will receive upon purchase.  This will provide a barrier that might be hard for the consumer to overcome if they are considering this product.  The ounce or gram size for the price is crucial information that should be provided for the consumer.
Guarantee
Zenmed Scar Treatment is offering a money-back guarantee that will refund the purchase price.  This guarantee is is claimed to be hassle-free.  This means that the user can return it for any reason to take advantage of this guarantee.  This is a good type of guarantee to have.  The only problems lies in if they will accept opened products as so many manufacturers do not.
Our Conclusive Review Of Zenmed Scar Treatment Review
While Zenmed Scar Treatment  is a good product, it is not as good as many product out there because of the lack of pricing information.  Any consumer will want to know what they are receiving in return for their money.  Are they receiving a small bottle or a big bottle?  More than one bottle?  What am I receiving for my money?  This really prevents the consumer from making an informed decision on whether this is the scar treatment for them.
Bringing you top reviews and product analysis - Consumer Advisors.