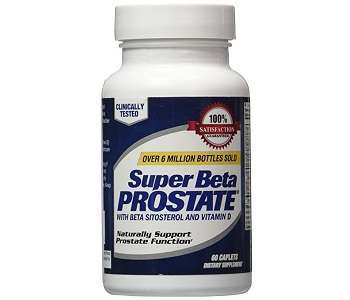 User Ratings (

0

Votes)

0
Aging is associated with significant body changes. For men that may mean their prostate gland starts to become enlarged, thereby squeezing the urethra. This can result in urination problems including a weaker urine stream that hinders complete bladder emptying and increased frequency, waking up several times in the night to go to the bathroom. Super Beta Prostate claims to wipe out all these issue allowing you to enjoy peaceful nights. Super Beta Prostate, according to the manufacturer, combines Beta-Sitosterol with other essential minerals that reduce urinary urges, improve bladder emptying and decrease nighttime bathroom trips. Read on in our Super Beta Prostate review to get all the facts you need to know about this supplement.
Ingredients
The main ingredients with quantities per two capsules: calcium 80mg, zinc 15mg, mixed phytosterols 600mg including beta sitosterol 250mg, manganese 2mg, copper 2mg, molybdenum 75 mcg, chromium 120 mcg, selenium 70 mcg, boron 3mg, silica 20mg.
Inactive ingredients include: stearic acid, microcrystalline celulose, croscarmellose sodium, magnesium stearate, pharmaceutical glaze, soy and shellfish.
Beta Sitosterol is an active ingredients in Super Beta Prostate and is known for its effectiveness in treating benign prostatic hyperplasia (BPH) by reducing the amount of androgens in the prostate and preventing the overstimulation of the prostate by these hormones. Vitamin D supports overall prostate and immune system health.
Dosage
The recommended dosage for Super Beta Prostate is two caplets a day. One caplet should be taken in the morning and another in the evening, and optimally they should be taken with meals. It's advisable to seek medical advice if you have any concerns or are taking prescription medication, before taking this supplement.
Possible Side Effects
The manufacturer does not identify any possible side effects of the supplement. However, beta-sitosterol which is among active ingredients in Super Beta Prostate has been associated with certain negative side effects including: gastrointestinal issues such as indigestion, heartburn, diarrhea, nausea and constipation; reduced sex drive; erectile dysfunction; decreased vitamin absorption; allergic reactions including hives, rash, itching, swelling of the throat or mouth, difficulty breathing.
Price
Super Beta Prostate can be ordered from the manufacturer's website. This is the best place to buy since you are assured of purchasing the original product. Your initial purchase is a 30-day supply (one bottle) for which you pay $6.99 for shipping and handling and are enrolled automatically in the company's "exclusive preferred customer program", which is a fancy name for auto-reship. Until you cancel the auto-reship program you will then receive an ongoing 30-day supply of Super Beta Prostate at a cost of $39.95 plus $6.99 S&H.
Guarantee and Feedback

Super Beta Prostate is backed with a 100% satisfaction guarantee. You have 30-days to return any bottle (or bottles) shipped to you, to receive a refund, less shipping and handling costs.
As of the time of our review, over 500 Amazon customers had posted feedback. The ratings are not complimentary with 55% positive and a very high (for this category) 36% negative.
Our Conclusive Review About Super Beta Prostate
Based on the statistics given on the manufacturer's website indicating that over 8 million bottles have been sold, and given the hundreds of Amazon reviews (indicating many sales via Amazon) one can believe that Super Beta Prostate is effective for some people in relieving urinary difficulties associated with prostate problems. The 30-day money-back guarantee is just ok, especially given that the manufacturer itself recommends in its FAQ that for optimal results the supplement should be taken for 30 – 60 days. We're also not thrilled with being automatically being enrolled in an auto-reship program, although you can purchase one-off bottles via Amazon (and for a whole lot less money than via the manufacturer's website). The high percentage of negative feedback is definitely concerning and suggests this product is very hit and miss, working for some and not for a large percentage of others.
Bringing you top reviews and product analysis - Consumer Advisors.