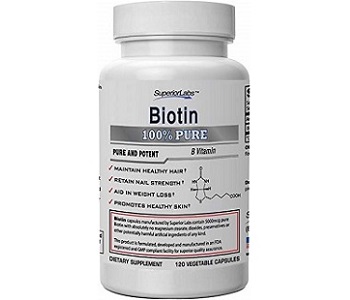 User Ratings (

0

Votes)

0
Biotin, vitamin B, vitamin H or coenzyme R – they are all the same names for a vitamin that plays a vital role. Without it, energy from fats, carbohydrates, and vitamins cannot be extracted via metabolism and many bodily processes suffer gradually over time as a result. A deficiency most often shows up as weak, brittle nails and thinning, dull hair as well as aging, papery skin. This is why this vitamin got the nickname vitamin H, as it comes from the German vitamin 'Haar', which is the German word for 'hair'.
Biotin, as manufactured by Superior Labs, says it can help you maintain healthy hair and nail strength and help you lose weight as well as get healthier skin.
Ingredients
Biotin 5000 mcg
Organic Rice Concentrate
Plant Cellulose (vegetable capsule)
The dose, while not the highest, is quite high compared to other products and pure as there are no additives or preservatives such as magnesium stearate. There are also no dioxides or harmful ingredients. Biotin also slows down aging, prevents cognitive decline and is needed for muscles to repair themselves. If you're not eating lots of fresh produce and healthy fats, it's almost a certainty that you are not getting enough biotin long-term. Unfortunately, sometimes people only realize this when their decline overall is advanced.
Dosage
Take 2 tablets a day or as directed by a health professional. Not suitable for children.
Possible Side Effects
In supplement form, the safety of biotin during pregnancy has not been established. Do not take this if you are pregnant, breastfeeding or trying to conceive. If you experience any nausea or tummy upset, lower your dose or stop taking the product.
Price
The 120-capsule bottle sells for $17.99 on the Superior Labs website. This is the only size and there are no bulk buying deals.
Guarantee & Feedback
This brand of biotin gets good reviews on Amazon. You may return unopened products only. You have to get authorization within 7 days and return the product within 30 days.
Conclusive Review About Superior Labs Biotin
The purity of the product, made as it is without synthetic additives, soy and GMO and other harmful ingredients is noteworthy. If you've developed a sensitivity to these other additives which is likely if you're trying to restore hair loss after cancer treatment, for example, you'll likely feel sick or nauseous when taking a product containing these synthetic extras or allergens. Consumers such as these report that indeed their sensitivities are not triggered when taking these capsules. Good hair and nail growth and restoration is also reported.
A good product but bear in mind it is not the highest mcg of biotin available on the market, and it is best to be able to obtain a bulk discount as you need to be using biotin over a long period of time as it cannot be stored in the body – it is passed out via urine every day. From our research, we have consistently found that from a cost and financial safety point of view subscriber discounts come second to bulk discount purchases that you can make at your discretion.
Bringing you top reviews and product analysis - Consumer Advisors.